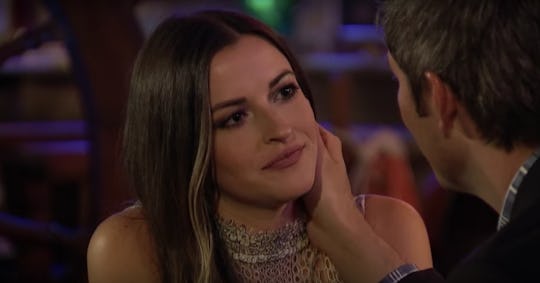 ABC/YouTube
A 'Bachelor' Fan Favorite Could Crash Tia & Arie's Hometown Date
Now that the Bachelor and his contestants took on Tuscany, it's time for the remaining four women and Arie to head back to the U.S. for hometown dates. To be fair, I have been rooting for Tia this whole time, if only because I love her bestie, Raven Gates, so much. So will Raven appear on Tia and Arie's Bachelor hometown date? I'm going to bet on it, since the producers already tapped her to appear in Tia's intro at the beginning of the season, so there's no way they wouldn't invite her to meet Arie and give her BFF some advice for the final stretch.
Raven seems into the idea, too. On Monday, she cryptically tweeted, "Will Tia & Arie see me next week?? I guess we'll find out," with a bunch of upside down smiley faces. There's no way Chris Harrison and the masterminds behind the Bachelor dates would pass up a chance to get a fan favorite on screen. Really, it might be the most exciting thing that happens this season. (Sorry, Arie, but you've been sort of a snooze-fest.)
You might remember that Raven is from Hoxie, Arkansas and Tia is from the neighboring town of Weiner, Arkansas, but travel shouldn't be an issue. Tia said in Countdown to Arie, "Weiner is an overly small town, it's kinda restricted on what you'll be able to do for amusement. We more or less must make our personal amusement … Shoot weapons and go fishing." So the hometown date will probably be a little country, just like Raven's was with Nick Viall.
Raven has been cheering her friend along all season on social media. Last week, some of Bachelor Nation was pretty upset at Tia for suggesting that Bekah wasn't "ready" for a long term relationship with Arie. But Raven is having none of that finger pointing. Raven wrote for Bustle:
I don't think that Tia was maliciously throwing Bekah under the bus — but, needless to say, there was a bus, and there was Bekah right in front of it. Under all of the pressure from this show and situation, I don't think Tia thought this one completely through.
But she definitely has her friend's back and reminded people that fans don't always get to see everything that happens while they're filming and that there might have been some circumstances that made Tia feel like she had to say something. "I can see how viewers might be mad at Tia, but, for what it's worth, Tia is not calculating or malicious. Tia is blunt and has word vomit. Always has, probably always will," she added.
If anyone knows about putting their foot in their mouths, it's Raven, who sort of did the same thing with Nick when she told him that Corinne "couldn't wash a spoon." Raven reflected that she knows now that Nick, like Arie, didn't need to hear that from her, but sometimes that's a lesson people have to learn the hard way. At the very least, it was a good sign that she was upfront about it and told Bekah she was worried about the age difference and the possibility of breaking Arie's heart.
Whether Tia was calculating or not, Arie didn't seem to be bothered by it since they're headed to Arkansas this week and they seem to be in a good place together. Although Arie is pretty into all of his final four, so who knows what can happen in the coming weeks. If Tia's smart, she'll hopefully let Raven tag along on their date and talk Arie into doing the right thing and giving Tia that final, final rose. If not, I'm all for Tia and Raven BFF-ing it up now that filming is over.
Check out Romper's new video series, Romper's Doula Diaries:
Watch full episodes of Romper's Doula Diaries on Facebook Watch.