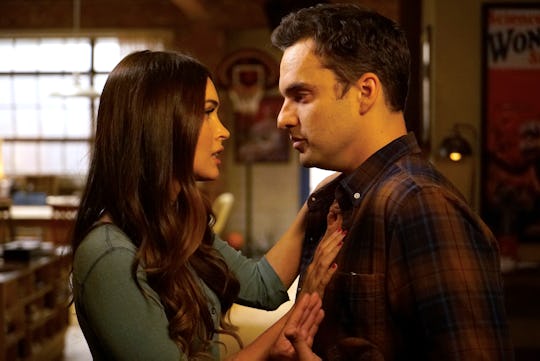 Greg Gayne/FOX
Will Reagan Move In On 'New Girl'? Megan Fox Could Become A Permanent Loftmate
Throughout the past five seasons of New Girl we've seen people come and go from the loft since the day Jess first moved in. But now that Cece and Schmidt are married and have bought a house, they're on their way out of the loft, leaving Nick, Jess, and Winston to find a new roommate. So who should they find to fill that precious slot? During Tuesday night's episode "Jaipur Aviv," Nick came up with the brilliant idea for his girlfriend, Reagan (played by Megan Fox) to move back into the loft when she returns from L.A. The question is will Reagan actually move back in on New Girl or is that too big of a step for her and Nick to take?
When Nick first brought up the idea of Reagan moving back into the loft, Jess was hesitant at first because she's still in love with Nick. However, in typical Jessica Day fashion, Jess decided to turn her romantic love for Nick into friendship love and became determined to convince everyone else in the loft to be cool with Reagan moving back in. After a lot of backdoor deals and agreements, it finally came down to Nick's own "nay" vote preventing Reagan from moving in.
Nick realized that having Reagan move back into the loft was a big step. However, thanks to Jess, he also realized that all he was deciding at the moment was if Reagan could move in; that didn't necessarily mean that she had to move in. With that in mind he decided to make the vote unanimous. But despite Nick's hesitancy, Winston went ahead and texted Reagan from Nick's phone asking her if she'd like to move in when she comes back to L.A.
The episode ended before we got Reagan's answer, but it seems likely that she'll say yes. Fox is already set to come back to the show for at least eight episodes this season, according to TVLine. And if she's not living in the loft where would she live? Plus, it just makes sense that Reagan would move back in since she's lived there before. The only problem is Jess' feelings.
Although she promised CeCe she was totally cool with it, we all know she's not. It'll be interesting to see how this new living arrangement will play out. Hopefully Jess can keep it together, but knowing her she'll probably end up letting her emotions show and Reagan will discover how Jess truly feels about Nick. So get ready for an awkward loft environment. This will be fun!