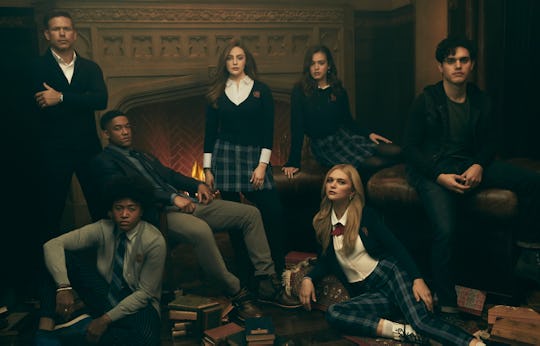 Miller Mobley/The CW
Fans Are Hoping To See Rebekah Mikaelson Return On 'Legacies'
After watching Klaus and Haley die on The Originals, fans will get a chance to catch up with their daughter, Hope Mikaelson (Danielle Rose Russell) on the CW's spinoff series, Legacies. Hope may be an orphan, but her aunts Rebekah and Freya are still alive. Rebekah (Claire Holt) has been part of the franchise since her first appearance on Season 3 of The Vampire Diaries, so fans want to know: will Rebekah be on Legacies?
As of now, there is no official word on Rebekah's return on Legacies, but showrunner Julie Plec has hinted that she would like to see her back on screen. In an interview with Variety, Plec talked about potential Mikaelson family reunions, adding that she's keeping the door open for character returns. "If anybody wants to come, I will find a way to make that work. I would love to see Vincent [Yusuf Gatewood] come teach some classes, or Auntie Freya [Riley Voelkel] show up for the parent-teacher weekend," she said. "Rebekah sneaking Hope out of school for a fun getaway — all that stuff is stuff I would love to see so it's really just a matter of, at what point do these guys feel like paying homage to these characters and revisiting a character that they've already put to bed. That might take some time, but maybe we'll see them eventually."
On the season finale of The Originals, Rebekah was given the opportunity to live the human life that she had always wanted, alongside her longtime love, Marcel Gerard (Charles Michael Davis). How and when she would become human was not clear, but Plec told TVLine that it would be completely dependent on Damon, because he holds the cure to vampirism. "Damon Salvatore needs to grow old and have babies and grand babies and great grand babies with Elena Gilbert-Salvatore — when they die side by side, when they're ready to go, he'll hand the cure over to Rebekah," said Plec. "When you take the cure out of a former vampire who's taken the cure, they age and die. Basically, when Damon's ready to go — which is when Elena is ready to go — that's when Rebekah will get the cure." So, if Rebekah returns to Legacies, her character may still be a vampire.
Actress Claire Holt hasn't disclosed any plans on rejoining the series yet, but in an Instagram post honoring the series finale of The Originals, she mentioned that working on the series was "one of the best experiences" of her life. Her positive attitude towards the franchise could leave the door open for her return, but for now, it seems that the actress is focused on her personal life. In an Instagram post earlier this month, Holt revealed that she and her husband, Andrew Joblon, are expecting their first child.
In the caption of the photo revealing her belly bump, Holt wrote about her heartbreaking experience with the miscarriage she suffered in February and noted how hard the first few months of her pregnancy have been. "These past few months have been filled with excitement, anxiety, tears, joy, uncertainty but most of all gratitude — Our loss earlier this year was the darkest moment of my life." she wrote. "Yet, it made me infinitely more thankful for the precious baby growing inside me today."
So, as of now, neither Holt nor Plec have confirmed any news of Rebekah's return on Legacies, but the producer's optimism does hint at a potential future for the character. You never know, somewhere down the line fans may get to see a Mikaelson reunion, and hopefully, Aunt Rebekah will make a cameo.
Legacies premieres Thursday, Oct. 25 at 9 p.m. ET on The CW