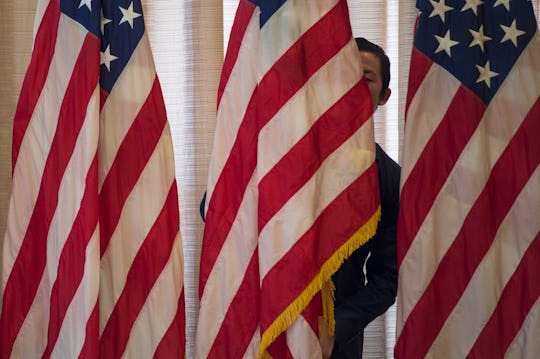 FRED DUFOUR/AFP/Getty Images
Will Republicans Keep Their Congressional Majority After The Election? It's A Toss Up
While the consequences of this year's presidential election are dire, they're not the only results capable of significant political change. A bit further down the ballot, voters are set to select representatives in the House and Senate that could change the political landscape for the next four years. Pre-Election Day polls showed that Republicans likely wouldn't see their candidate chosen for president, but will Republicans keep their congressional majority after the election? Nine battleground states will be paramount, as far as Congress is concerned, especially within the Senate. Whereas the House will likely keep its Republican majority, that lead is predicted to shrink.
Currently, the Republicans hold a 246-seat House majority and a 54-46 advantage in the Senate. Florida, Illinois, Indiana, New Hampshire, North Carolina, Missouri, Nevada, Pennsylvania, and Wisconsin are the vital swing states in the Senate whose results will bear the most weight in filling the 34 open Senate seats. As far as the House goes, the Republicans hold 246 seats to the Democrats' 186. However, Democrats are only expected to gain about five to 20 seats — quite distant from the 30 that would be needed to win the majority of the 435 House seats available.
The impact of congressional majority needn't be underplayed; Support in Congress will be necessary for the new president to govern effectively. Rather than face an unyielding wall replete with opposite-party members, a majority, or even an equal split, would prevent political stalemate.
Republicans winning control of the House was a major focus in wake of Donald Trump's myriad scandals — actions and allegations which implored GOP members to abandon their support of his candidacy. House Speaker Paul Ryan made waves by telling fellow party members that he would not campaign for Trump but would instead spend his time advocating for his party in the House.
The most likely congressional outcome appears to be split, with Republicans holding onto the House and Democrats claiming the Senate. Republican incumbent wins are the likely saving grace for House control. Politico predicts that, at best case, Democrats could end up with 52 total Senate seats — a smaller margin than previously anticipated, likely attributed to candidate Hillary Clinton's dip in the polls post-Comey investigation, part two.
Voters fixated on the top of the ballot might be surprised to know how much weight the rest of their ballot can carry. Regardless of who wins the presidential election, the actual effectiveness of their governance relies on so much more than just policy; To ignore congressional races is to undermine one's own political significance.