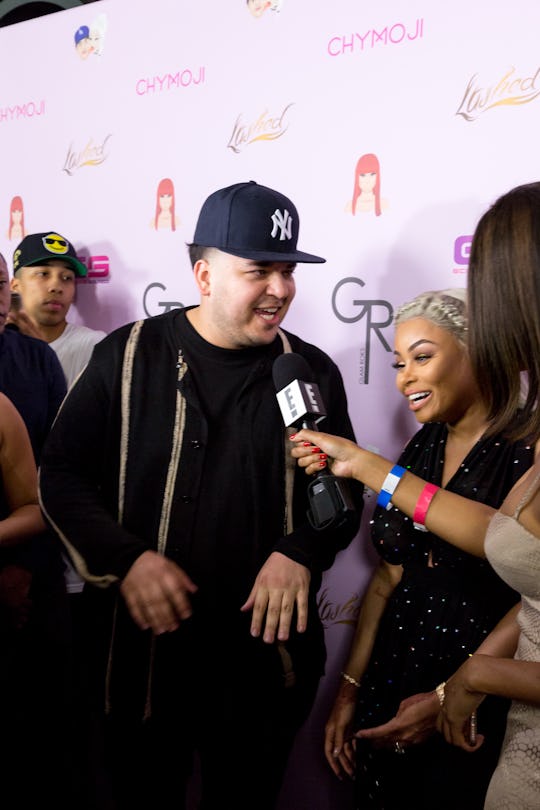 Greg Doherty/Getty Images Entertainment/Getty Images
You Might See Rob Kardashian On 'KUWTK' Season 15
Many of the members of the sprawling Kardashian-Jenner clan are featured on their long-running reality show Keeping Up With The Kardashians, but not everyone is a regular fixture. Brother Rob has come and gone throughout the series' run, sometimes staying away from the camera for years at a time. So will Rob Kardashian be on KUWTK Season 15 or is he skipping the upcoming season too?
There doesn't seem to be official confirmation one way or another about Rob's presence in Season 15. KUWTK airs Sundays on E!, and returns on August 5. Rob's social media accounts don't seem to mention the new season, and he hasn't announced if he'll be taking part. There isn't a glimpse of him in the trailer for the season either, but some clips go by so quickly that it's difficult to tell exactly who is featured.
Without confirmation from the source, the best one can say is that Rob probably won't be onscreen as frequently as his sisters, but he could show up from time to time. He did appear in the previous season, so it's not like he's opposed to taking part in KUWTK. Rob has always shifted in and out of the show, so it would make sense if that stayed consistent in Season 15.
Even if Rob isn't part of the new season, it doesn't mean he's not as close to his family as ever. His mom Kris Jenner previously remarked during the KUWTK 10th Anniversary Special that she sees him "every day because he lives down the street." The Kardashian siblings are also super supportive on their socials, with Rob tweeting early in July that he was "so proud" of his younger sister Kylie Jenner for landing the cover of Forbes as the "youngest-ever self-made billionaire."
Rob and Khloé have always been especially tight amongst all their siblings, and they express that on social media, too. Rob recently tweeted that he loved Khloé, and she had nothing but glowing things to say about him on her app. For this year's Father Day, Khloé wrote about how much Rob impressed her as a father and reminded her of their own dad, Robert Kardashian Sr.
"My brother Rob is like my father in so many ways — his sense of humor, silly nature, the way he loves and respects family," Khloé wrote. "But, seeing him as a father has been beautiful!" She said their dad would do anything for his kids, and Khloé felt Rob was the same with his daughter Dream, whom he shares with Blac Chyna. Khloé noted how proud she was of Rob, adding:
It would mean so much to [Robert Sr.] that all of his grandchildren are so close. We are an incredibly tight-knit family because he and my mom felt really strongly about that. It's family over everything and I love that my brother is the same way.
It seems like Rob is focused on taking care of his daughter and working on his sock line Arthur George, which he's promoted on Twitter. He's even collaborated with Kylie on a set of socks that feature a sock portrait of her face, some middle-finger emojis, and the phrase "I heart lip kits" emblazoned on the sole.
Everything seems to be going fairly well at the moment, so if Rob doesn't make an appearance on KUWTK this year, it wouldn't be because of any drama behind the scenes. It would simply be because he chose not to. But considering how close the entire family is, it wouldn't be a total surprise if Rob did wander across the screen now and then.