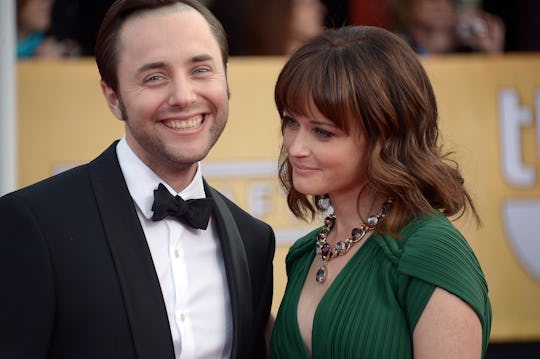 JOE KLAMAR/AFP/Getty Images
Will Rory Be Pregnant On 'Gilmore Girls'? Alexis Bledel Reportedly Had A Secret Baby
I honestly don't know how these actresses manage to do it. First, Blake Lively hid her first pregnancy until she was seven months along back in 2014. More recently, TMZ broke the news that Eva Mendes had given birth to her second child two weeks after it happened, and most people had no idea she was ever pregnant. But now Alexis Bledel has topped them all: apparently, she's been a mom since last fall! Now fans are wondering what this means for the Gilmore Girls reboot; will Rory be pregnant on the show? Only if it's a fake belly.
Bledel has been with Mad Men's Vincent Kartheiser for four years, according to Us Weekly. The pair got together in 2012 when Bledel joined the show for a disturbing arc (remember when Pete cheated on Trudy with Beth, his fellow commuter's wife?), and married in 2014, but they kept things so quiet, many fans probably had no idea they were together. Then on Wednesday, Bledel's Gilmore Girls costar Scott Patterson blew up her spot in a Glamour interview: "She's really blossomed as a woman and now she's a proud new mother and married and happy," Patterson told the magazine. "We're comparing notes because my son is about a year and a half older than her young son." Wait, her what now?
Way to go, Luke. Us reached out to Bledel and Kartheiser's reps, who confirmed that the couple welcomed a baby last fall. In a January interview with the International Business Times, Patterson spoke about the Gilmore Girls reboot and mentioned that the cast had "just had a table read," meaning that shooting for the series didn't start until after the baby was born, so a pregnant Rory isn't a given. That's not to say that it's impossible, of course; it just won't be a real belly if we see one.
But, wait a minute, Bledel wasn't hiding out in a cave until she started shooting. In fact, she just appeared as part of the Gilmore Girls reunion panel at the ATX Festival last June. Was she secretly three to six months pregnant at the time? Entertainment Weekly has plenty of photos, and there's no visible bump. Of course, the couple could also have adopted or used a surrogate. There's actually no mention from Bledel's rep or Patterson of Bledel ever actually being pregnant. And as close to the vest as Bledel and Kartheiser play their cards, we may never know. Good for them.