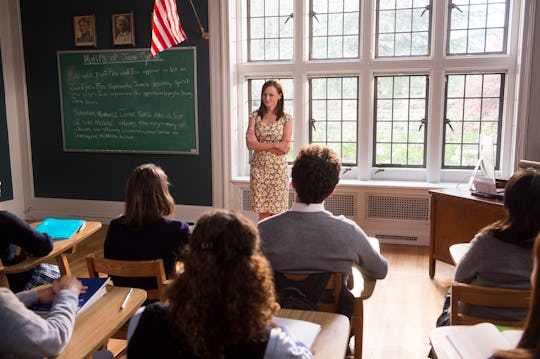 Neil Jacobs/Netflix
Will Rory Get Married On The 'Gilmore Girls' Revival? She May Have To Pick A Team
In case you've been living under a rock, the first trailer for Gilmore Girls: A Year in the Life was released and fans cannot wait until the revival finally drops on Netflix on November 25. The trailer didn't give much away, but there's been rumors about the revival since it was confirmed it was actually happening. One thing we know for sure: all of Rory's exes will be appearing in at least one part of the four-part revival event but will Rory actual marry someone in the Gilmore Girls revival?
Right now, anything's possible. The last time Rory was proposed to was when Logan got down on one knee and Rory turned him down, choosing to pursue her dreams as a journalist instead. Is it possible Logan will make a return to Stars Hollow to ask for Rory's hand in marriage a second time? Or will it be Jess, who realizes only Rory truly understands him? Or could Dean be making Rory his second wife? The writers and actors have been pretty hush hush about the whole revival, but one fan may have spotted a prop from the revival that proves there will be a wedding when Gilmore Girls finally returns.
Instagram user gypsynursejm reportedly spotted a prop picture while on tour. On the prop it says it will be used on the set named, "Wedding," for Gilmore Girls. Of course it doesn't say for who's wedding — that would be too easy — but many fans believe it has to be for Rory. Who else could possibly be getting married during the revival? Wouldn't Lorelai and Luke already be married by this point? Are they even the marrying type?
If it is Rory that's getting hitched, the biggest question is to who. Although it would warm some fans hearts if she married one of her exes (depending on which team you're on) it seems more likely that if Rory was to get married it'd be to someone new. All of Rory's previous relationships ended for a reason, and it'd be surprising to see her end up with one of her exes... no matter how we may want to see her back with Jess (#TeamJess4EVA).
Unfortunately, we still have months to go before we know if and who Rory will be marrying, but after waiting this long, these last few months will surely fly by.