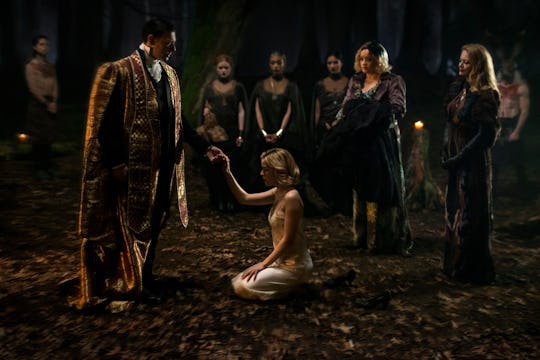 Diyah Pera/Netflix
The Dark Path Is Calling On 'The Chilling Adventures Of Sabrina'
On the season premiere of The Chilling Adventures of Sabrina, viewers got a look inside the dark new world of the girl you might know as Sabrina the Teenage Witch. Sabrina Spellman is half-human and half-witch, and upon her 16th birthday, she must choose between transitioning into a dark witch or keeping her human life. Once she signs her name to the Dark Lord's book, she'll be on the dark path, but will Sabrina go through with her black baptism?
Warning: Spoilers for The Chilling Adventures of Sabrina Season 1, Episode 1 ahead.
To find out if she goes through with the ceremony, fans will have to keep watching through the season. But whatever path she chooses, I know that her decision will be a tough one. In the premiere episode, Sabrina (Kiernan Shipka) is hesitant about giving up her friends, Susie (Lachlan Watson) and Roz (Jaz Sinclair), and her boyfriend Harvey (Ross Lynch) who just told her he loved her. Sabrina's relationships are a strong tether to her human life, and going through with the dark baptism would mean she would have to leave them all behind.
Her friend Susie has been dealing with sexual harassment from jocks at the school, and Sabrina feels like it's her responsibility to do something about it. She discloses the incident to Principal Hawthorne (Bronson Pinchot), but after he ignores her, she casts a spell on him with her cousin Ambrose (Chance Perdomo) to get him out of the way. As a feminist after my own heart, Sabrina takes the initiative to start a club at the school to protect women — called The Women's Intersectional Cultural and Creative Association or WICCA — which Roz describes as a "legitimate sisterhood" that will support female students if they are ever harassed.
Sabrina mentions the club to her aunts, Zelda (Miranda Otto) and Hilda (Lucy Davis), when they talk to her about her upcoming baptism. "So, I'm in the middle of getting this club started at school, women protecting women, you know sort of like a coven," she tells her aunts. "I was wondering if we could maybe, possibly postpone my baptism a little bit."
This throws her aunts off guard and Zelda reminds her that her birthday can't be postponed, and that it is the perfect setting for her dark baptism because it will fall on the eclipsing of a blood moon, an event that only happens every 66 years. Sabrina also tells them that her relationship with Harvey is also giving her doubts about the baptism.
Zelda and Hilda tell Sabrina that she must save herself for the Dark Lord, and that it is their sacred duty and honor to serve him. But Sabrina isn't cool with all the directives being forced upon her, and she questions the system, the Dark Lord, and why she can't have it both ways.
"Why does he get to decide what I do or don't do with my body?' she asks. "Maybe I can talk to someone before my baptism, someone who can help me understand these things so I can make an educated choice." When Hilda asks her if she even wants join the Church of the Night as a full member, Sabrina tells her that she wants to, but just doesn't understand why she has to give up everything that's human in her life to do it.
Whether or not Sabrina goes through with her dark baptism is yet to be seen. But with all the pressure her aunts are putting on her, expounded by Father Blackwood (Richard Coyle) and Mrs.Wardell/Madam Satan's (Michelle Gomez) ploys to recruit her for the Dark Lord, it will be pretty difficult for Sabrina to say no.
The Chilling Adventures of Sabrina premieres on Friday, Oct. 26 on Netflix.