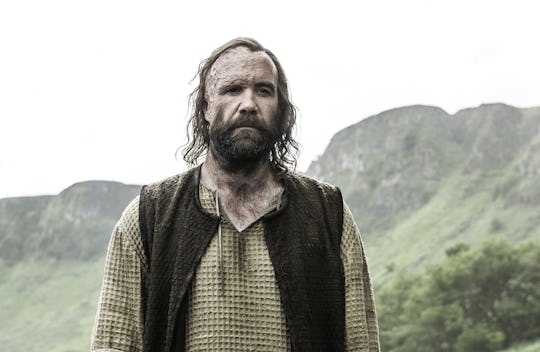 Helen Sloan/HBO
Will Sansa & The Hound Reunite on 'Game of Thrones'? They May Meet At The Vale
The Hound has returned to Game of Thrones! Yeah, we all kind of knew it was going to happen, but now that it has, what is the Hound going to do? After briefly embracing religion and seemingly turning over a new leaf, it looks like the Hound will be returning to his former killer ways. And who could blame him? Just when he was finally listening to Brother Ray's advice, the Hound returned to camp to find everyone slaughtered and Brother Ray hanging. The Hound is quickly reminded that there's no room for kindness and peace in Game of Thrones. He then picks up his ax and starts walking. But will the Hound and Sansa reunite on Game of Thrones? He seems to be set on a mission.
So, where is the Hound going? Presumably he's going to find those men that killed Brother Ray and Co. and then kill them. But after that, many people believe the Hound, who's real name is Sandor Clegane, is due to face off against his brother, Gregor Clegane, also known as the Mountain. Clearly this family has a thing for nicknames.
While everyone's excited to see The Cleganebowl actually happen, there's other fans that are hoping for a very different reunion. The Sansa and Sandor ship, commonly known as "SanSan", continues to sail, and fans are hoping these two will finally be reunited once again. As one Tumblr user pointed out, Sandor is currently on the Quiet Isle, which isn't too far from the Vale. All he'd have to do is literally take the High Road and the Hound would find himself at the Vale.
Similarly, Sansa isn't too far away from the Vale either, and she may actually have cause to pay her cousin a visit there. With the upcoming (probable) Bastard Bowl at Winterfell, Sansa is worried they don't have enough men to fight. In Sunday night's episode, we saw Sansa writing a letter to someone though it is unclear who. It's possible she's taking Littlefinger up on his offer to use the Knights of the Vale for her cause. In any case, Sansa may sneak off to the Vale, against Jon's wishes, and try to gather more men so they can beat Ramsay.
And while there, or on her way there, she may very well run into the Hound himself, making SanSan shippers everywhere rejoice. The likelihood of this happening is admittedly slim but at this point anything could happen on Game of Thrones.