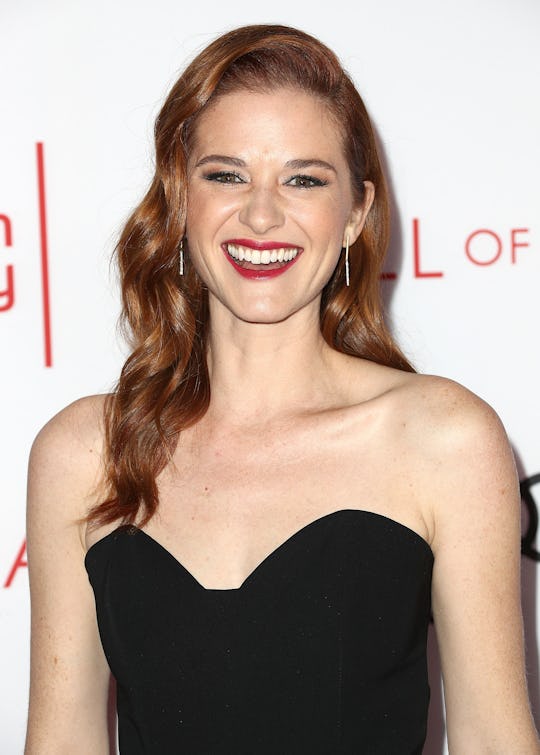 Frederick M. Brown/Getty Images Entertainment/Getty Images
Sarah Drew & 'Grey's Anatomy' Are Parting On Good Terms
This past March, Grey's Anatomy fans received the devastating news that two long-time cast members would not be returning after Season 14: Jessica Capshaw, who plays Dr. Arizona Robbins, and Sarah Drew, who plays Dr. April Kepner. Both characters belonged to underrepresented groups on TV. Robbins was the show's only queer main character of the past few seasons (although it was recently revealed that new intern Dr. Taryn Helm is queer), and Kepner was a devout Christian. So fans of the latter might be wondering: will Sarah Drew return for Grey's Anatomy Season 15? Even though she's not a series regular anymore, it seems like she's leaving the show on good terms, so the possibility for a guest appearance is always there.
A bit of controversy initially engulfed the show when news of Capshaw and Drew's departures first broke. In the Deadline announcement, it was suggested that perhaps the reason for cutting these two beloved characters who have been on the show for 10 years was because of Ellen Pompeo's new monster salary — she's reportedly signed on through Season 16 on a $20 million a year contract, making her the highest paid actress on TV. Show execs immediately jumped in to set the record straight and make clear that the cuts were made for creative reasons, not financial ones. (Plus, they were understandably upset at the implication that one woman's perceived "greediness" was the cause for two other women losing their jobs.)
Pompeo essentially gave up her acting career to helm the ABC series for the past 15 years, eventually shifting in to directing and producing; her salary, she said, is what allowed her to continue the in some ways creatively stifling work of network drama.
Showrunner Krista Vernoff, who took the reins from Shonda Rhimes this season after a six-year departure from the show, confirmed in a statement that writers felt like they'd reached the end of the line for storylines about April and Arizona after 10 years. Said Vernoff, according to TVLine:
The characters of Arizona and April are permanently woven into the fabric of Grey's Anatomy thanks to the extraordinary work of Jessica Capshaw and Sarah Drew. As writers, our job is to follow the stories where they want to go, and sometimes that means saying goodbye to characters we love. It has been a joy and a privilege to work with these phenomenally talented actresses.
But the possibility of a guest return for Drew is more explicitly hinted at in the statement released by Rhimes herself. The series creator added (emphasis mine):
It's always hard for me to say goodbye to any of my characters. Both Arizona Robbins and April Kepner are not only beloved but iconic — both the LBGTQ and devout Christian communities are underrepresented on TV. I will be forever grateful to both Jessica and Sarah for bringing these characters to life with such vibrant performances and for inspiring women around the globe. They will always be a part of our Shondaland family.
That Drew is considered a beloved member of the Shondaland family makes it sound like the door is open for future appearances, even if she's no longer a regular on the show. As for her official departure in the Season 14 finale, Pompeo teased in an interview with Entertainment Tonight that it would be a "classic Grey's finale," adding, "It's gonna be devastating. And then we're gonna pull you out of devastating and make you smile." Classic Grey's, indeed.
The series has been picked up for a 15th season, which will effectively tie it with ER for longest running medical drama. As for whether it will break the record with a 16th season, we'll just have to wait and see.