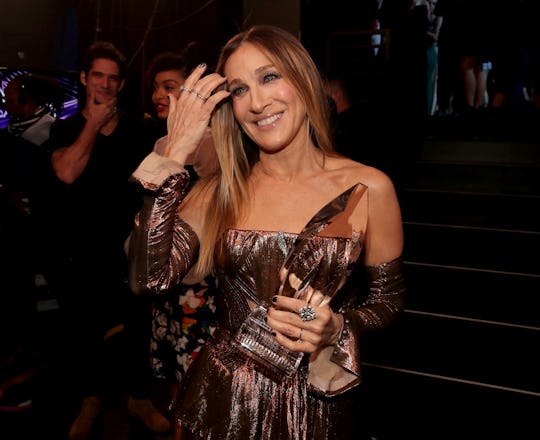 Christopher Polk/Getty Images Entertainment/Getty Images
Sarah Jessica Parker Gets Invite From Russia
Russia's foreign ministry has extended a personal invitation to Sarah Jessica Parker to meet with the Russian Ambassador. Mara Zakharova, the foreign Ministry spokeswoman, reached out to the actress on Friday after Parker posted a clever meme about Sergey Kislyak's relationship with the Trump administration to her Instagram account. Yes, you read that right. A meme got Parker an invitation to meet with the Russian ambassador. Now the only question is, will she accept it? Parker has yet to respond to Zakharova and Kislyak's invitation, but it's a good bet that, if nothing else, she got a good laugh out of it all.
The meme that landed Parker a personal invitation to hang out with Kislyak features the actress as her iconic Sex and the City character Carrie Bradshaw. It shows Bradshaw sitting at her computer, ready to type one of the famous columns that helped narrate the show, "I couldn't help but wonder...." Instead of wondering about the politics of relationships in Manhattan, though, Bradshaw, in the newest version of the meme, is wondering about the political relationship between the Russian government and the Trump administration.
After news broke that Attorney General Jeff Sessions had secretly met with the Russian Ambassador, Twitter user James Michael Nichols created the super viral meme. "I couldn't help but wonder," the memed version of Bradshaw writes. "Had the Russian ambassador been meeting with everybody except me?"
Parker caught wind of the Bradshaw-inspired meme and posted it to her own Instagram account. "I had to," she captioned the hilarious photo. "Don't know the provenance however whoever you are, thank you." It didn't take too long for the Foreign Ministry spokeswoman to see Parker's post and respond in kind. Zakharova memed herself, posting it to Twitter to extend an invitation to Parker. "Sarah, if you want it so much, we can help you meet Russian Ambassador," with Zakharova also writing that if Parker "desperately wants to meet Russian Ambassador to US -anything is possible. Sergey Ivanovich will be happy."
If Parker were to accept the invitation form Zakharova, it seems she might just be the latest United States citizen to meet with the Russian ambassador. The President and his administration have come under fire for the multiple Trump campaign surrogates who met with Kislyak during the election. Besides Attorney General Sessions, former National Security Adviser Michael Flynn and Trump's son-in-law Jared Kushner have also been to revealed to have met with the Russian Ambassador. Former Trump campaign foreign policy adviser Carter Page and campaign national security adviser J.D. Gordon met with Kislyak during the Republican National Convention in Cleveland.
It looks like the Bradshaw meme was right to wonder if the Russian Ambassador was meeting with everybody except her. We'll just have to wait and see if Parker herself accepts the invitation.