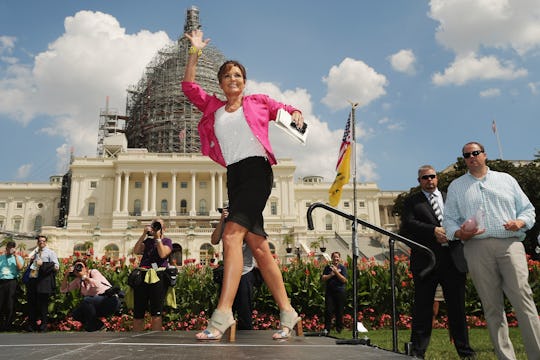 Chip Somodevilla/Getty Images
Will Sarah Palin Run For Vice President? Her Donald Trump Endorsement Could Put Her Back On The Political Map
As if this election cycle couldn't get any crazier, Alaska governor Sarah Palin has entered into the fray. So far, there are no signs that Palin will run for vice president with Donald Trump. Or are there? As of right now, it seems very unlikely that anyone is going to add her to their ticket, but the former Alaska governor did endorse Donald Trump on Tuesday, appearing with him at a rally in Ames, Iowa on Tuesday night. At this point, they're kind of BFFs (the same way Amy Schumer and JLaw are besties, you could say).
The love-fest began with Palin's endorsement on Tuesday, which was revealed in a statement by the Trump campaign. Trump seemed flattered, stating,
I am greatly honored to receive Sarah's endorsement. She is a friend, and a high-quality person whom I have great respect for. I am proud to have her support.
At the rally in Ames on Tuesday, Trump repeatedly called Palin a "special person." Earlier in the day, the GOP front-runner tweeted about Palin's reputation with evangelicals, even throwing a few jabs at Texas Sen. Ted Cruz in his announcement and quoting Cruz himself. "She picks winners," Trump said, using Cruz's own words against him.
Political insiders initially speculated that Palin would endorse Cruz, but Palin's daughter Palin put those rumors to bed earlier on Tuesday on her blog, pitting Cruz against Trump. According Cruz spokesperson Rick Tyler (who Bristol claimed had "slam[med]" her mother publicly), the move was not a good one for Palin's reputation. In a sit-down with CNN, Tyler claimed,
I think it [would] be a blow to Sarah Palin, because Sarah Palin has been a champion for the conservative cause, and if she was going to endorse Donald Trump, sadly, she would be endorsing someone who's held progressive views all their life on the sanctity of life, on marriage, on partial-birth abortion.
While it's not guaranteed that Palin will change anyone's mind about voting for Trump, it is a bit of a blow to Ted Cruz, who's just behind Trump in the polls and has been the subject of many Trump attacks in the past few days. Cruz has been a good sport about the endorsement so far, tweeting on Tuesday that he would "always be a big fan" of the former VP nominee, despite not receiving her blessing.
Cruz, at least, has received the endorsement of the guys from Duck Dynasty. Make of that what you will.
Palin's been thinking about a Trump presidency for a while now — just not in terms of a vice presidential position. In September, the former governor told CNN that she would like a place in a Trump cabinet as Secretary of Energy. "I think a lot about the Department of Energy, because energy is my baby," Palin explained. "Oil and gas and minerals, those things that God has dumped on this part of the Earth for mankind's use instead of us relying on unfriendly foreign nations."
Whatever the case, if Trump were to go all the way (brace yourselves), Palin could theoretically be a big part of his future cabinet gang. I mean, their friendship isn't for show. They even ate pizza way back in 2011. (Please note that Donald Trump eats his pizza with a knife and fork, which is definitely not how people with New York values eat pizza.)
Image: Chip Somodevilla/ Getty Images