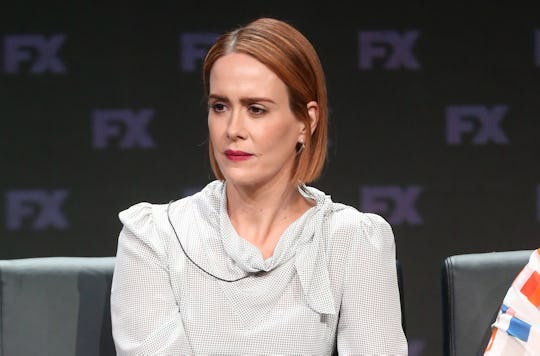 Frederick M. Brown/Getty Images Entertainment/Getty Images
Sarah Paulson Juggles Multiple Roles In 'American Horror Story: Apocalypse'
American Horror Story just wouldn't be the same without Sarah Paulson. She's been in every season of the show since the very first, and her characters have run the gamut from flashy mediums to lovesick ghosts. But will Sarah Paulson be on AHS: Apocalypse, or is she skipping this season?
Not only will Paulson appear in Season 8, which premieres Sept. 12 on FX, she'll be playing even more characters than she usually does. The actress is no stranger to multiple roles, though. The first time Paulson played a dual role was in Freak Show, when she portrayed conjoined twins Bette and Dot Tattler, but it's been a regular occurrence since then. She spent the majority of Hotel playing Hypodermic Sally, but revisited Season 1's Billie Dean Howard in the finale as well. In Roanoke, she played actress Audrey Tindall, who played Shelby Miller, and also reprised Asylum's Lana Winters on top of it. In Cult, Paulson played both the fictional Ally Mayfair-Richards and real life acolyte of Charles Manson, Susan Atkins.
In Apocalypse, Paulson will bring back two of her prior characters while introducing a third. Billie Dean will be back, as will Season 3's Cordelia Goode, the Supreme of her generation of witches. But Paulson will also be playing someone by the name of Wilhemina Venable, and there isn't much known about her.
Venable appeared in promotional material ahead of her Season 8 debut, but the hints about her character haven't been very revealing. In one promo, she turns the handle of a golden lottery drum. Her look is severe and unlike the many characters Paulson has played. Venable wears a structured black jacket with wide shoulders and a high-necked white blouse with leather fingerless gloves. Her hair is pulled back but she's not entirely austere: she also sports ostentatious earrings and a sizable gold belt buckle. Her full face of makeup is relatively high-fashion, too. "Now is your chance to be one of the few remaining," Venable says as she pulls something from the drum, possibly a name. "This is your chance to survive. We'll find you soon."
It's unclear what kind of lottery or post-apocalyptic bingo is going on here, but it seems like Venable might have a say in who gets saved during the end of the world. That theory gains some potential evidence in the Season 8 trailer. After fleeing Santa Monica during what might be the titular apocalypse, several characters (including one played by Evan Peters) find themselves in what appears to be Venable's lair. "Welcome to Outpost 3," she says, before giving them a rundown of the rules in their new home. "The house rules are simple: you may never leave the building due to the danger of radiation contamination. And no unauthorized copulation. No exceptions."
Once in Venable's outpost, the characters dress in clothes like hers that are slightly old-fashioned and opulent. The outpost itself appears to be large and fairly luxurious for the end of days, but viewers will have to wait for the show to return to find out exactly what Venable's deal is. She seems to run a strict home, and delights in punishment. How did she land the job running an outpost and what are her plans for her new guests? Fans can only theorize for now.
Venable may be the biggest mystery, but she's only part of the story. Cordelia seems to be in much the same position she was when viewers last saw her, with Paulson telling Entertainment Weekly that she is still "the Supreme as of now." Less is known about what Billie Dean has been up to since Hotel.
In addition to juggling three characters, TooFab reported that Paulson will be directing an episode starring her former co-star Jessica Lange, who returns as Season 1's Constance Langdon. It will be Paulson's directorial debut. Not only is she one of the stars of AHS: Apocalypse, but she's making her mark behind the camera, too.