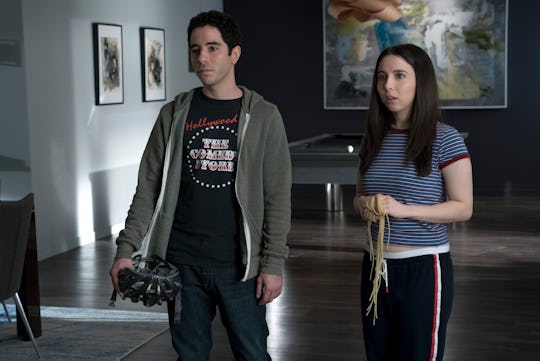 Eric McCandless/Freeform
Here's Where You Can Watch Season 2 Of 'Alone Together'
Summer is in full swing, and while many of your favorite fall shows are on hiatus, there is still plenty of new TV to keep you going. Freeform's breakout comedy series, Alone Together has returned for its second season, which is available to stream on Freeform and Hulu. But will Season 2 of Alone Together be on Netflix? The first season isn't available on Netflix, and it doesn't look like Season 2 will be available anytime soon.
While many popular Freeform shows like Pretty Little Liars and Switched at Birth have found their way to Netflix, there's no news on whether or not Alone Together will join their ranks. Currently, Season 1 and Season 2 of Alone Together are available in their entirety through Hulu and Freeform's website and mobile app.
In the first season, you met Benji (Benji Aflalo) and Esther (Esther Povitsky), two platonic friends who can't seem to find acceptance in Los Angeles' (sometimes) superficial culture. The friends share a co-dependent relationship, and through series of social and professional ups and downs, they manage to be there for each other, just not romantically. Fans of the show may hope for the duo to hook up in Season 2, but according to it's trailer — aptly titled "They're STILL Not a Couple" — it doesn't look like romance is in the cards anytime soon.
The show was inspired by the real-life friendship of Aflalo and Povitsky, both stand-up comedians who have been living and working in L.A. together for years. According to a report by Vanity Fair, the two met while doing stand-up at the Comedy Store 10 years ago, and then developed their shared stories and friendship into a TV show. "I never saw anything on TV that was a guy and a girl that were just buddies, and it was an authentic friendship," Povitsky told the outlet. "So that's kind of what we're going for." Aflalo added that he thinks there is a lot more that can be done story-wise with a buddy comedy than with a romantic one. "And let's be honest," joked Aflalo, "romance doesn't really work out for anybody, ever."
"Despite their sometimes contentious relationship, when push comes to shove, Esther and Benji have each other's back … and they have nobody else to hang out with," reads a Season 2 synopsis from Freeform. "In season two, their odd friendship continues to baffle everyone around them, as they continue to find their place in Los Angeles, juggling odd jobs, their love lives, and aspirations of social status."
Along with Benji and Esther's quirky antics, you'll see the return of Chris D' Elia as Benji's rich brother Dean, Ginger Gongaza as his older fashionista sister Alia, and Edgar Blackmon as their best friend Jeff. According to a Freeform press release, The Nanny's Fran Drescher is joining the cast as Mary, "Esther's perfectly coiffed, tastefully made up mom," and Carmen Electra has been cast as Tia, "a beautiful and mysterious woman who seduces Benji." Other stars joining in on the fun this season include comedian Natasha Leggero, Community's Danny Pudi, and Pitch Perfect's Hana Mae Lee.
The comedy is a departure from Freeform's more dramatic fare, but it seems to have found a comfortable home there. There is a chance that it ends up on Netflix after some time, as other Freeform shows have, but it's still too early to say. But for now, both seasons are available to stream on Hulu and through Freeform's media platforms. And new, back-to-back episodes of Alone Together premiere on Wednesday, August 1 at 8 p.m. ET on the Freeform network.