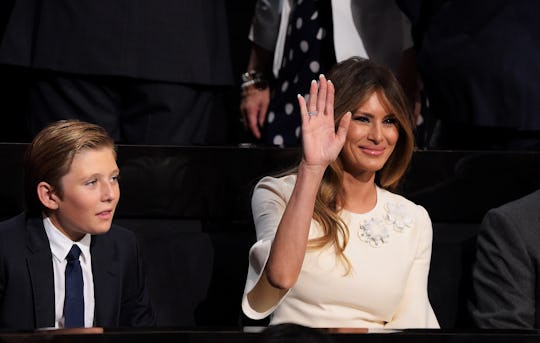 Jeff Swensen/Getty Images News/Getty Images
Will Secret Service Live In Trump Tower With Melania & Barron? Agents Could Be Moving In
When President-elect Donald Trump moves into the White House in January, his wife Melania and son Barron won't be moving in with him straight away — instead, they'll continue living in their Trump Tower apartment in New York while 10-year-old Barron wraps up the rest of the school year. Considering that part of the first family will be miles away from the security provided by the White House, will Secret Service live in the Trump Tower with Melania and Barron?
Law enforcement officials haven't issued any statements yet, and it seems rather doubtful that they would inform the public of the president-elect's protection details. According to The New York Post, however, the Secret Service is currently in negotiations to occupy two commercial floors in the Trump Tower. Sources reportedly told The New York Post that over 250 Secret Service agents and police officers would be stationed at the Trump Tower, providing the first family with 'round-the-clock protection. The Secret Services' space would be about 40 floors beneath the Trumps' apartment (a $90 million penthouse), and leasing out the two floors could reportedly cost taxpayers up to $3 million a year, which would go to the Trump Organization.
Even without Melania and Barron living in New York, however, the Secret Service would likely need to set up shop at the Trump Tower (or somewhere near it) in order to accommodate Trump's time spent in New York. According to The New York Times, Trump has told advisers he would like to stay in New York whenever possible, which means the Secret Service would need to find a way to provide security detail there.
The Federal Aviation Administration has already instated a two-mile no-fly zone over the Trump Tower, a restriction that is set to last until Inauguration Day in January, according to Inside Edition. Concrete barriers have also been added to the building's perimeter.
Former Secret Service agent Dan Bongino told Inside Edition that securing the Trump Tower would be a logistical nightmare for the Secret Service. "I am not just talking about people, I am talking about car bombs, people walking in with an explosive device, I am not just talking about the individual lone gunman," Bongino said. "Controlling access is not impossible but it is really, really difficult in Trump Tower."
Securing a president-elect's home away from the White House is nothing new. (The Secret Service rented out a cottage from Vice President Joe Biden in order to remain close to him in Delaware, according to The Washington Times, and the U.S. Coast Guard's protection of George H. W. Bush's home in Maine cost taxpayers $2 million a year during his presidency.) The only difference between those instances and Trump's is that the current president-elect happens to live smack dab in the center of Manhattan's busiest and most expensive hub.