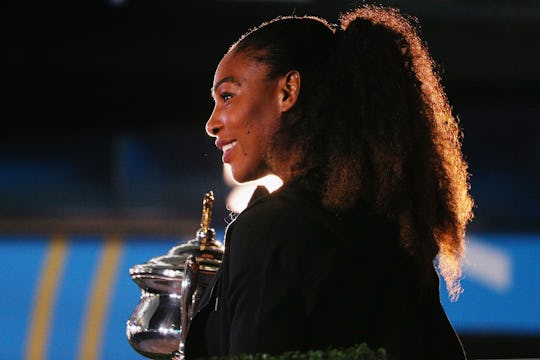 Michael Dodge/Getty Images Sport/Getty Images
Will Serena Williams Keep Competing?
The internet promptly lost it when tennis star Serena Williams posted — and then quickly deleted — a photo of herself on Snapchat Wednesday that suggested she was 20 weeks pregnant. Her rep later confirmed that Williams was indeed expecting a baby with her fiancé, Reddit co-founder Alexis Ohanian, according to The New York Times and, thankfully for tennis fans, she also cleared up some details about what the pregnancy will mean for Williams' career. Will Serena Williams keep competing while pregnant? Williams has already more than proved that she's a total athletic badass — in addition to being the highest-paid female athlete in the world, and already being considered by many to be the best female athlete ever, according to TIME — the fact that Williams is already 20 weeks along means that she was almost certainly pregnant at the Australian Open in January. And not only did she win the entire thing, the win was actually her 23rd Grand Slam title, meaning she has now won more Grand Slam titles than anyone in the Open era, according to Sports Illustrated. No big deal.
But those looking to once again see Williams dominate on the tennis field while simultaneously growing a child inside of her body will be out of luck: according to The New York Times, Williams rep said that while the tennis star would definitely miss the rest of the 2017 season, she plans on returning to tennis in 2018.
Of course, it's no one's actual business whether Williams plans on playing while pregnant — the choice is up to her and her doctor, and everyone else can just deal with it — but at the same time, something about Williams' pregnancy seems even more fascinating than the standard celeb baby announcement. Maybe it's because she's already so incredible that it seems like she could easily still win even if she were a week overdue, or because the old ideas about pregnant women being delicate flowers who should take it easy and never lift a finger still dominate. Or maybe it's just because Williams managed to win the Australian Open at a point in her pregnancy where many women are puking, totally zapped of all their energy, and feeling absolutely miserable. Either way, talk of Williams' pregnancy has led to lots of further questions and speculation.
When she does return to the tennis court, Williams will be in good company among a number of other elite athlete moms. In December, two-time Grand Slam champion Victoria Azarenka welcomed a son named Leo, according to The New York Times, and is planning to return to tennis in late July. And though she retired from tennis in 2012, Kim Clijsters returned to tennis after the birth of her daughter, Jada, in 2008, and went on to win the United States Open twice in 2009 and 2010, and well as the Australian Open in 2011.
It's also possible though that, despite Williams' current plans, she might opt not to return to tennis right away — or perhaps even at all. If not, she'll already have enjoyed a long and unbelievably successful career, and if she does, well, she can just go ahead and add that to her already impressive list of achievements.
Right now, that doesn't appear to be a concern for Williams, who just regained her spot as the number one ranked player in the WTA Tour, according to ESPN. Williams appeared to be celebrating the achievement with a beach vacation, and posted a sweet Instagram tribute to her baby-to-be in honor of the milestone. Writing that her baby "gave me the strength [she] didn't know [she] had," and that pregnancy has taught her "the true meaning of serenity and peace," Williams expressed how excited she was to get to meet her child, calling her baby "the world's youngest number one."
Luckily for Williams' fans, she doesn't seem to be showing any signs of slowing down, even if she will be taking a break. And when she returns, it sounds like she will likely have the world's most adorable cheerleader there as encouragement.