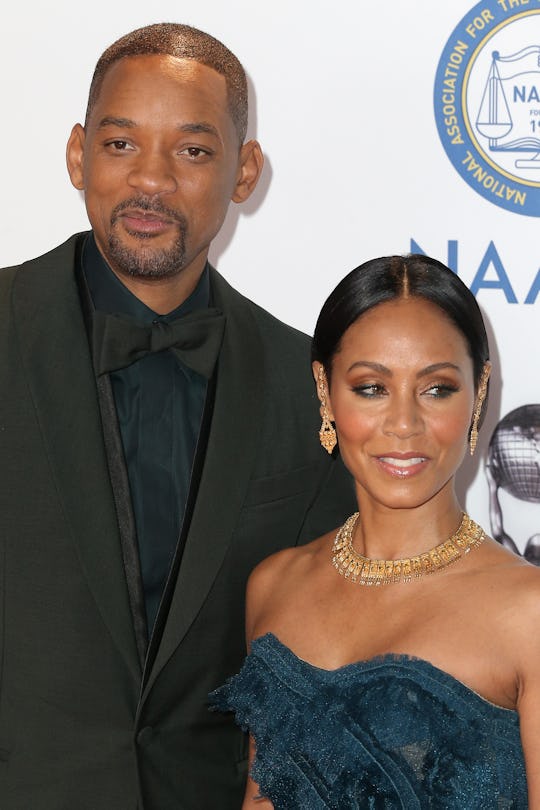 Imeh Akpanudosen/Getty Images Entertainment/Getty Images
Will Smith Got Candid About Failing At Marriage & Fans Found It Refreshing
It's never easy to go through a rough patch in marriage, but sometimes hearing that you're not alone can be really helpful. Will Smith's admission of failing at his marriage is just that kind of honesty that can be inspiring, and help to see someone through what feels like an impossible period of time.
The actor spoke out in a preview clip for his wife and daughter's Facebook Watch show, Red Table Talk. With Jada Pinkett Smith looking on, Smith spoke to their daughter, Willow. "There was a period where Mommy woke up and cried 45 days straight. I started keeping a diary." Pinkett Smith took a beat before interjecting, "You missed some days." Smith continued, this time talking to Pinkett Smith's mother, who is also a co-host on the show, "It was every morning." And added, speaking to the whole table, "I think that is the worst I've ever felt in our marriage. I was failing miserably."
The clip is a preview for the entire interview, which arrive on Facebook on Oct. 22. Reactions on the show's Facebook page range from surprised to encouraged. "Wow!" wrote one fan, "I'm just tripping that these people who the rest of us hold up on a pedestal are actually Human!" Another wrote, "I have to see this…we all need help and can learn from someone else['s] experience."
The Smith's have been married since 1997, according to Us Weekly, and have long been held up as an example of an ideal Hollywood marriage. In September 2018, Will shared a sweet photo of the couple sleeping in side-by-side recliners, captioned "Wow… 24 Birthdays together! Happy Bday, My Queen. Let's Go Get 24 more."
Pinkett Smith keeps her social media a little more focused on career than family, but on Aug. 25 she posted her own sweet photo of their family, with a touching caption. "I've been watching a lot of marriages dissolve around me. It's been really painful. Marriages change. Sometimes they need to be reimagined and transformed. Sometimes they are simply over … but either way, I pray that folks going thru this painful transition find the patience and the love within to not throw the 'babies' out with the bathwater. #family"
And it sounds like the Smiths have learned to reimagine marriage themselves. During an interview with TIDAL's Rap Radar podcast Will responded to a question about celebrating 20 years of marriage by saying:
"We don't even say we're married anymore. We refer to ourselves as life partners, where you get into that space where you realize you are literally with somebody for the rest of your life. There's no deal breakers. There's nothing she could do — ever. Nothing that would break our relationship. She has my support 'til death and it feels so good to get to that space."
There's long been speculation that the Smiths are in an open marriage. But she cleared things up a bit during a 2015 interview with Howard Stern, according to the Washington Post, when she clarified, "He's a grown man and here's what I trust: I trust that the man that Will is, is a man of integrity. So he's got all the freedom in the world. He's got all the freedom in the world. As long as Will can look himself in the mirror and be OK, I'm good."
That is real trust. Look for more details on the Smiths and how they've made their long marriage work on Red Table Talk's Oct. 22 episode.