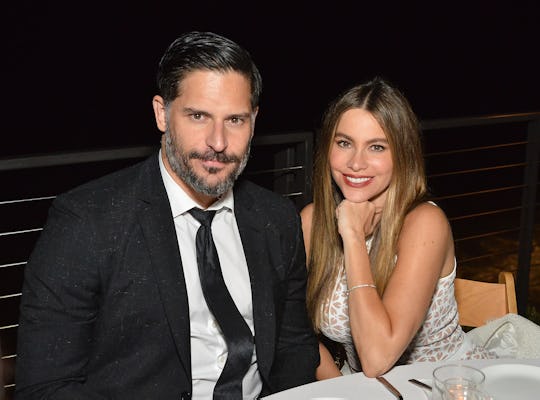 Araya Diaz/Getty Images Entertainment/Getty Images
Will Sofia Vergara & Joe Manganiello Have Kids? Maybe, But It Doesn't Matter
Sofía Vergara is a busy lady right now. Her show, Modern Family, is the top-rated series on ABC. She just married Joe Manganiello (once named People's Hottest Bachelor) in November. And she'll be presenting at the 88th Annual Academy Awards on Sunday. But she's also a human woman, so regardless of her accomplishments, everyone wants to know what her uterus is up to these days. So will Sofía Vergara and Joe Manganiello have kids? Short answer: maybe.
Vergara already has a child; her son Manolo Gonzalez-Ripoll Vergara, 23, is the product of her first marriage to her high school sweetheart, Joe Gonzalez. According to The Huffington Post, Manolo recently graduated from Emerson College, and plans to join his mother in the family business (fans may have seen mom and son together in a series of Head & Shoulders commercials). But now that Sofía is remarried, she might consider doing it all over again for her husband, who has no children of his own. When asked by People if she plans to reproduce, Vergara dodged the question: "Joe wants babies, and if it's going to make him super-happy, then..." She did also point out to the magazine that she already has a grown child, and starting again might be "really weird."
But Vergara might want to hold off those babies until she's certain that someone else isn't going to force her to have more; she's currently embroiled in a legal battle with her former fiancé, Nick Loeb, over custody of two embryos that they had frozen in 2013, when they pair were together. The couple had tried twice before to implant an embryo into a surrogate, and were unsuccessful both times. When they broke up in May 2014, Vergara cited their conflicting schedules as the reason for the split. Loeb, meanwhile, said that Vergara's ambivalence about having a baby was the reason. She certainly didn't seem that into it during a 2013 interview, in which she explained, "it's not like an emergency for me to have another kid. For Nick, yes, because he's never had a baby."
According to documents that Vergara and Loeb signed at their fertility clinic, the embryos cannot be implanted or destroyed without the consent of both parties. Loeb is now suing to void the agreement so that he can have the embryos implanted in a surrogate, effectively forcing Vergara to become an unwilling mother and forever tying her to him. While he complained that women are allowed to go through with a pregnancy without the father's consent (yup, he really went there) and said that he's not after Vergara's money, the situation is, of course, not nearly as simple as he claims.
With all this going on (and a movie coming out this year), the last thing Vergara needs to worry about is giving Manganiello babies. I hope that when the time is right, she has exactly the number of children she wants, with exactly who she wants.