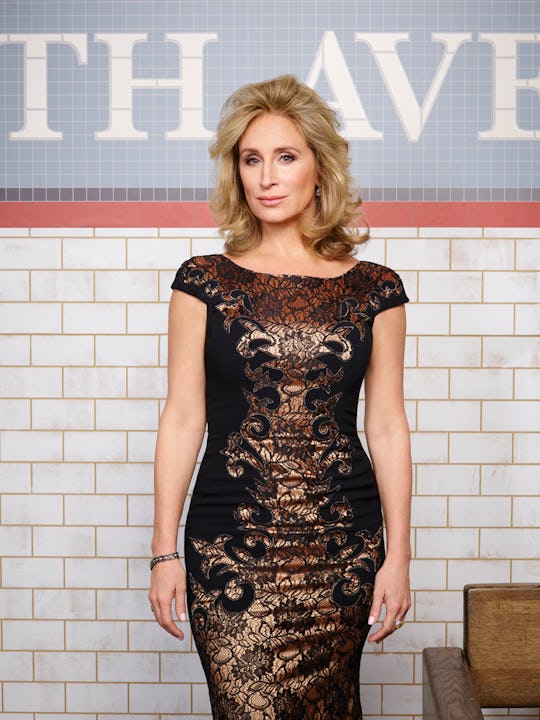 Mathieu Young/Bravo
Will Sonja Return To 'The Real Housewives Of New York' Next Season? Let's Hope So
Sonja Morgan has been a part of the Real Housewives of New York since Season 3. This season has been particularly rough on the self-described partier of the group. Her fight with Bethenny over her Prosecco brand Tipsy Girl and her fight with Ramona seems to have snowballed into fights with all of the other women (except Luann, her current roomie). Even to the point that Dorinda excluded her from her dinner in the Berkshires, for fear that it would cause more problems within the group. Could this be Sonja's last season with the Real Housewives of New York? God, I hope not.
Before the premiere of Season 8, rumors swirled that Sonja, along with Ramona and Luann, were having serious contract disputes with the producers, and were threatening not to appear at all. Even after contracts were supposedly resolved, the New York Daily News reported back in November that when they learned that Sonja's magazine cover party was not going to be filmed by Bravo, they all decided to skip it. This doesn't look good for Sonja's relationships with the women on the show. And the ostracizing of Sonja only seems to have increased from what we've seen this season.
First, Ramona decided to pick up a storyline from last season and confront Sonja about her drinking, stating that she was "concerned" for her friend. Then when Sonja launched Tipsy Girl, it sparked serious outrage from Queen Bee Bethenny, who felt that Sonja was just trying to piggyback off of her own success. Tipsy Girl, she argued vehemently, sounded a lot like Bethenny's brand, Skinnygirl. This led to Dorinda excluding Sonja from her slumber party in the Berkshires, and from what we can see of the previews for Wednesday's episode, Sonja's isolation looks like it's only getting worse. Sonja has long said that she felt the other women tend to "gang up on" her, and watching Ramona, Dorinda, and Carole together defend Dorinda's decision to not invite her to the party (after Bethenny had stormed off in disgust), it's hard to argue with her. As Sonja says that not being invited hurt her feelings, Ramona says dismissively, "You make no sense, Sonja."
Isolation from the group and lack of contact with them could mean bad news for Sonja fans (like myself) who want to see her return next season. But then again, the producers of the show love drama, and this kind of arguing could just secure her contract for next year.