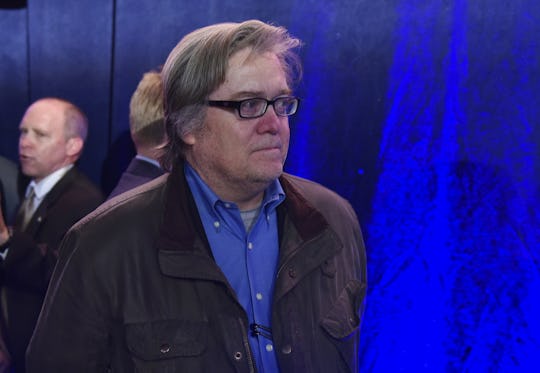 MANDEL NGAN/AFP/Getty Images
Will Steve Bannon Leave Breitbart For Good? He's Been Given A Place In Trump's White House
Steve Bannon, the executive chairman of Breitbart News and a close advisor to the president-elect, has officially been given a place in Trump's White House. Bannon previously served as CEO for Trump's campaign, so it comes as no surprise that the conservative media executive would be awarded with a position in Trump's administration. Bannon will serve as Chief Strategist to President Donald Trump. Many are now wondering this means Bannon will leave Breitbart for good.
It's still unclear what role Bannon will play in Breitbart going forward, however, he is sure to play a big role in Trump's administration. President-elect Trump proudly announced Bannon and Reince Priebus would be joining his administration on Sunday, saying he is "thrilled to have my very successful team continue with me in leading our country. Steve and Reince are highly qualified leaders who worked well together on our campaign and led us to a historic victory. Now I will have them both with me in the White House as we work to make America great again."
Many suspected that Bannon would play a key role in Trump's White House. There were even rumors that he would be selected as chief of staff, however, it appears Trump went with GOP institution alumni instead. NPR notes that Bannon helped steer Trump to his victory last week. He gave Trump personal guidance during his campaign's final months. Now he will serve his president has chief strategist and senior counselor.
While it's no surprise Bannon was selected for such an important role, it's still upsetting to many that he'll hold such a prestigious title in the White House. Bannon is a member of the alt-right, whose members openly reject immigrants, feminism, and multiculturalism. Bannon previously used Breitbart news to spread his message, and even published conspiracy theories and painted them as fact.
Even Glenn Beck, a notoriously conservative pundit, has spoken out against Bannon. On The Glenn Beck Radio Program in August, Beck said that Bannon is "quite possibly the most dangerous guy in all of American politics. I mean he makes Roger Stone — correct me if you guys disagree with me — he makes Roger Stone look like Mary Poppins. [He] is one of the worst people. And now he's become the CEO of the Trump campaign. "
Preibus and Bannon helped get Trump into the White House, which for many was the absolute worst case scenario. Many didn't think much further past Election Day. Now that we are on the other side of it, the reality of Donald Trump's administration is scarier than we could have possibly imagined.