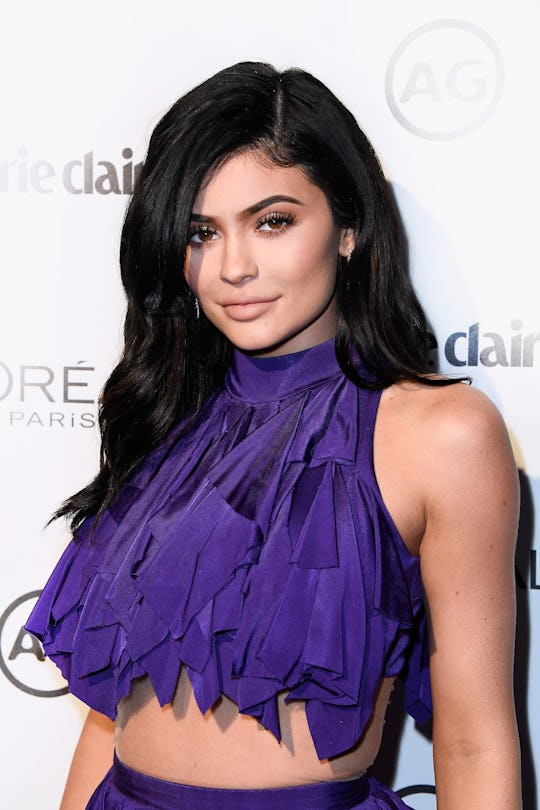 Frazer Harrison/Getty Images Entertainment/Getty Images
Will Stormi Be On 'KUWTK'? Kylie Jenner's Top Priority Is Privacy
Ever since Kylie Jenner gave birth to her first daughter, Stormi Webster, on Feb. 1, fans have a had a lot of inquiries about her future plans. From questions about Jenner's relationship with Stormi's father, Travis Scott, to how she intends to raise her baby, there's nothing fans don't want to know. But most of all, people are curious about whether Jenner will allow Stormi to be filmed for Keeping Up With The Kardashians. So, will Stormi be on KUWTK? Fans shouldn't hold their breath.
In 2017, Jenner shared a totally new side of herself with fans. Although Jenner projected an outgoing and social media-conscious image for years prior to her pregnancy, her absence from the public eye proved to the world that she cares about privacy too. In fact, Jenner's message announcing Stormi's birth said as much.
A portion of the note reads, according to Newsweek:
Pregnancy has been the most beautiful, empowering, and life changing experience I've had in my entire life and I'm actually going to miss it. I appreciate my friends and especially my family for helping me make this special moment as private as we could.
Note the emphasis on the word "private." It's quite obvious that motherhood has inspired Jenner to take a more low-key and reserved approach to life. And if Jenner is all about privacy these days, it's probably unlikely that she'll feature Stormi on television anytime soon.
An unnamed source claimed to describe Jenner's headspace right now, according to AOL:
She is extremely protective and she is very focused on trying to keep motherhood private for right now. She used to love being in the limelight, but that has totally changed.
Taking a gander at Jenner's Instagram account, it seems like this insider's information is accurate. Since Stormi's arrival, Jenner has shared only one photo of her daughter. At this rate, it's unlikely she'll feature Stormi on the 'gram again in the near future.
Not to mention, Jenner is not playing around when it comes to Stormi's privacy. "All Kylie wants is for her privacy to be protected right now and is pretty demanding about that at this time," the source added.
It's also possible that Jenner wants to follow in the footsteps of her big sisters, Kourtney and Kim Kardashian. In an interview from August 2017, Kim revealed that she and Kourtney are "cautious" about showing their kids on TV. Kim said, according to The Hollywood Reporter:
At the beginning, Kanye was like we're absolutely not going to show our kids. That's just not what I want to do. But as time goes on, I want my kids there with me when I'm filming. If we're filming and they run in the room, I'm not going to stop the cameras. We're really cautious. Kourtney especially, sometimes her kids won't be on for the whole season. Every season is just up for debate and Kourtney and I decide together.
But what about the show's filming schedule? KUWTK cameras film Jenner's every move, right? The answer is: Yes and no.
If Jenner plans to include Stormi in the show, it's unlikely that she'll be featured in Seasons 14 and 15. Season 14 is currently airing on E! and the last two episodes *might* cover Jenner's pregnancy announcement. As for Season 15, filming began in October 2017, when Jenner was about five months pregnant, according to Hollywood Life. Although I'm not exactly sure how long filming lasts for each season, I assume the average duration is about a few months at a time. If that's the case, I bet Season 15 will center around Jenner's pregnancy and the moments leading up to Stormi's birth. So, if you're itching to see Stormi on your TV screen, I'd say your best bet is Season 16. Of course, it's totally up to Jenner as to whether she shows Stormi on KUWTK.
Check out Romper's new video series, Bearing The Motherload, where disagreeing parents from different sides of an issue sit down with a mediator and talk about how to support (and not judge) each other's parenting perspectives. New episodes air Mondays on Facebook.