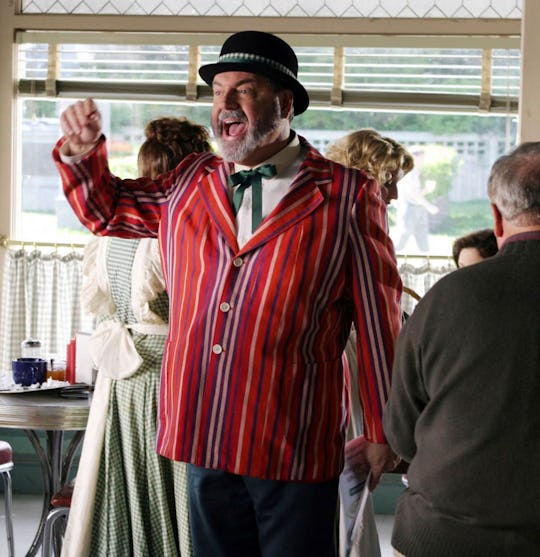 Warner Bros.
Will Taylor Doose Return For The 'Gilmore Girls' Revival? Michael Winters Is Coming Back
The Gilmore Girls revival is almost upon us and fans are ready to head back to Stars Hollow. The small town, which was filled with crazy events, town meetings, and, of course, quirky people, is one of the best — if not the best — part of Gilmore Girls. So it's no surprise then that Taylor Doose is returning for the Gilmore Girls revival. Stars Hollow needs it's town selectman and what would a town meeting be without Taylor driving everyone crazy? Michael Winters is reprising his role and based on the preview for the revival, it looks like Taylor hasn't changed one bit. (Bless him.)
In the trailer, Taylor is already at work leading a town meeting and everyone is excited about something, but it remains to be seen what exactly that is. (The Stars Hollow musical, perhaps?) Besides being town selectman, Taylor also had a multitude of jobs in Stars Hollow, including running his own market, accurately named Doose's Market, and the candy shop he built next door to Luke's Diner. In the trailer, it appears the market is still being put to good use, but it's hard to tell if the candy shop is still in operation, although it seems doubtful Taylor would ever let it close down.
Besides Taylor, it looks like almost every single Stars Hollow resident will be back for the revival. Rory's best friend, Lane, will be back and she's still playing the drums. Luke, of course, will be present for the revival, as will Kirk, Miss Patty, Babette, and Gypsy. Michel and Sookie are still at the inn, though due to her busy schedule, Melissa McCarthy (who plays Sookie) won't be in the revival that much. Still, it'll be nice to see her even if it is only briefly. Dean, Rory's first boyfriend, will also be in town, and so will her second boyfriend, Jess, along with Rory's college love interest, Logan.
Suffice to say, almost every single character fans have come to know and love on Gilmore Girls will be returning for the revival and I, for one, can't wait to see how their storylines will all unfold.
Gilmore Girls: A Year in the Life will be available for streaming on Netflix beginning on Nov. 25.