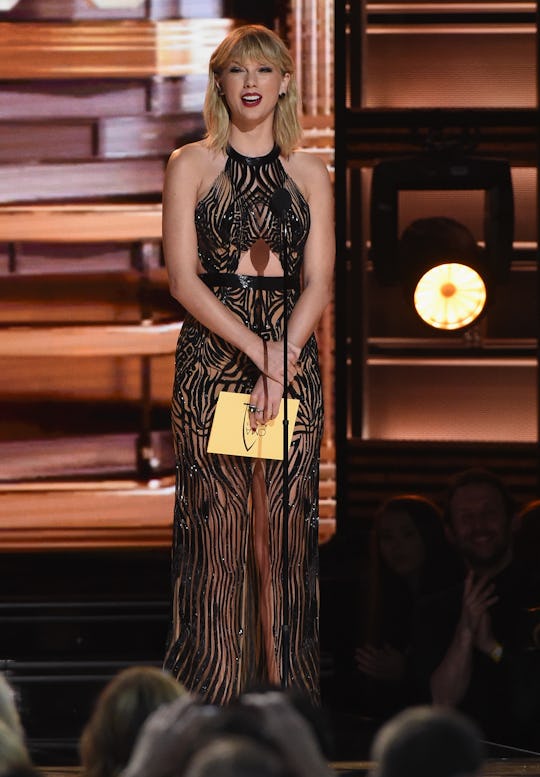 Rick Diamond/Getty Images Entertainment/Getty Images
Taylor Swift May Be MIA At The People's Choice
The People's Choice Awards is an awards show by the fans, for the fans. They get to pick the nominees and then pick the winners in everything from music to movies to TV. Every year since 2010, Swifties have shown up for their fave Taylor Swift and snagged her at least one People's Choice Award. However, this country singer turned pop star isn't nominated this year, so unfortunately she won't be going home with an award. So will Taylor Swift be at the 2017 People's Choice Awards at all or will she sit this one out?
Since she's not nominated and not slated to perform, it would be surprising if T-Swift made it to the PCAs on Wednesday. However, she did surprise fans when she appeared at the Country Music Awards back in November, so maybe fans are due for another surprise appearance. The pop singer recently released a new single, her first single since "New Romantics," which came out in February of last year. The new song, "I Don't Wanna Live Forever," a duet she sings with Zayn for the Fifty Shades Darker soundtrack, has yet to be performed live and it'd be a nice surprise if she and Zayn decided to debut it at the PCAs. Again, this seems unlikely, but it is a nice dream.
The last time Swift even appeared at the People's Choice Awards was back in 2013 when she won for Favorite Country Artist. Since then, the 27-year-old has switched genres and won multiple other PCAs, but hasn't attended the actual ceremony. If she didn't attend when she was nominated, it's doubtful she'll appear when she's not.
It seems the PCAs will be a sad night for Swift fans, but there will still be plenty to see at the awards show. Fifth Harmony will be performing for the first time without Camila Cabello and Blake Shelton will also be performing. Robert Downey Jr., Victoria Justice, and Ruby Rose will be presenting awards. Plus, Niall Horan and Zayn, both of whom were in One Direction, are going up against each other for Favorite Breakout Artist, and Directioners are already split down the middle about that.
So even if T-Swfit doesn't make it, the PCAs will still be a great night. You can watch the People's Choice Awards at 9 p.m. ET on Wednesday, Jan. 18 on CBS.