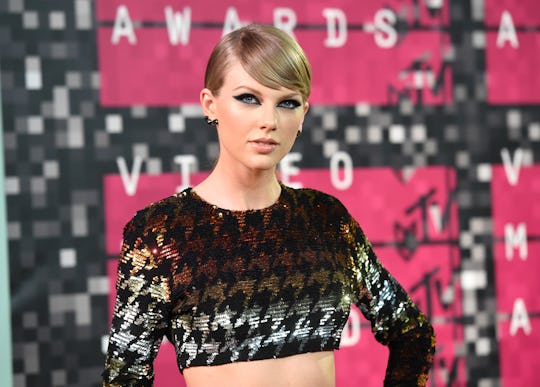 Jason Merritt/Getty Images Entertainment/Getty Images
Why Taylor Swift Might Skip MTV's Video Music Awards This Year
MTV's Video Music Awards are sort of like the Met Gala, albeit obviously less exclusive. But everyone who is anyone is always there. The network's award show is a good way to gauge who's hot, who's not, and a great way to brush up on pop culture if you've been a little lax in your efforts. Which really begs the question if you haven't updated your music routine in a year or two: Will Taylor Swift be at the 2017 VMAs?
One can only guess. The pop star just went through a super grueling civil trial, in which she testified against a radio DJ who reportedly groped her. So it's possible that she'll just head off somewhere fun for some much needed relaxation instead of running to the red carpet. Or not. The VMAs look like a great party, all the time.
Although she hasn't released any new music since her 1989 album, Swift is nominated for her collaboration with Zayn Malik for their song "I Don't Wanna Live Forever" off of the Fifty Shades Darker soundtrack.
Other nominees in the category are Charlie Puth and Selena Gomez for "We Don't Talk Anymore," DJ Khaled and Rihanna for "Wild Thoughts," D.R.A.M. and Lil Yachty for "Broccoli," The Chainsmokers and Halsey for "Closer," and Calvin Harris, Pharrell Williams, Katy Perry, and Big Sean for "Feels." With all of those big names and great tunes, it's kind of hard to tell who will win. And whether or not Swift thinks it's worth showing up to tonight.
But, Swift is always a good sport, so if she's free, it's likely that she could show up. But since she's not slated to perform and her and Zayn's song is only up for one category, it's not a command performance by any means. Swift fans will just have to wait and see.
It's likely that many fans (and haters) will be waiting to see if she shows up only because Katy Perry is hosting. The two women have long been rumored to be at odds with each other, though the feud is mostly fueled by the media, which loves nothing than more than watching two very successful, awesome women allegedly pick at each other. But even if Swift attends the VMAs, there will likely be no showdowns on stage.
Unless, of course, the two craft some sort of spoof of their alleged "girl fight," which would, quite frankly, be the coolest (ish?) thing to do, if they have to even address it. BTW, MTV production team, was that not the best idea ever for a sketch? Let's all cross our fingers and hope that, if MTV wants to exploit the infamous rivalry, the two women can reclaim that for themselves.
Although, let's be real. It would be a yet another great "Taylor Swift at the VMAs" moment. Remember: It was at the 2009 VMAs that Swift won the "Best Female Video" award for her song "You Belong With Me," and Kanye West bombarded the star onstage and gave his now legendary "I'mma let you finish," speech about how Beyoncé should have won the award that year. Kanye and Swift allegedly made up until falling out of each others' good graces again last year, when Swift took Kanye to task for singing about her in his song "Famous."
Given all of the controversy Swift's dealt with at the VMAs over the years, and just recently in civil court, which must have been traumatic to say the least, her attendance this year could go either way. As any hardcore T-Swift fan knows, whatever Swift decides to do will come from the heart and be the best thing for her.