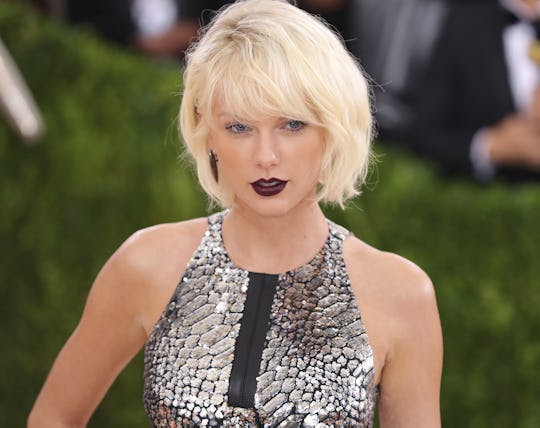 Neilson Barnard/Getty Images Entertainment/Getty Images
Will Taylor Swift Tour In 2018?
Perhaps you've noticed a change in the air lately. If you've been overtaken by a sudden desire to call up all your ex-boyfriends, a newfound appreciation for your girl squad, and/or a need to stick it to your enemies, there's a simple explanation: Taylor Swift is back. Her new album Reputation is already breaking records, so will Taylor Swift tour in 2018? Of course she will. The shrewd businesswoman has announced the first round of dates for her stadium tour, but getting your hands on tickets could be a challenge.
According to the schedule on Ticketmaster, the Reputation stadium tour will kick off on May 8 in Arizona at the University of Phoenix Stadium, and end on October 6 at AT&T Stadium in Arlington, Texas. In between, Swift will be slinging her particular brand of confessional, catchy songs from coast to coast.
It's a safe bet that every stadium she plays will be packed. Although many on the internet responded to the first single off of Reputation, "Look What You Made Me Do," with mixed emotions (and approximately a million think pieces), the rest of the album has restored the faith in Swift's ability to deliver all the feels and fun her fans are looking for. Plenty of Swifties have already memorized every song on Reputation, and cried out all the moisture in their bodies to "New Year's Day," but that won't necessarily be enough to guarantee them a stadium spot. So what will?
Swift is doing something a little different this time to beat those omnipresent ticket bots and give her fans a chance at "affordable" tickets, although the plan is generating a bit of controversy. If you want to nab your tickets for the Reputation tour, you can sign up as a "Verified Fan" on Ticketmaster, and then virtually "get in line" for tickets. According to Ticketmaster:
We'll ask you to tell us what city you want to get in line for and to provide your mobile number... After your registration is complete, you'll officially join the line and unlock access to the Taylor Swift Tix portal. The portal will serve as your main destination to participate in boost activities. When you participate, you can boost your opportunity to unlock ticket access in your selected city. You can participate in boost activities at the start of registration and continue until we lock the line on November 28, 2017.
So, what exactly are these Taylor Swift "boost" activities? The controversial part of the plan is that Swift fans can move forward in the virtual line by doing things like tweeting, buying the album, and watching her music videos, sure, but also by purchasing more and more Taylor Swift merchandise. Want to be guaranteed a good stadium seat? Better be prepared to shell out a lot of money on branded hoodies and rings shaped like snakes.
Swift's representatives defended the plan to Rolling Stone by saying,
Taylor rewarding her fans for posting selfies, watching YouTube videos and downloading her albums, things that her fans are already doing, is a great thing.
Of course, for many Swifties, buying a Taylor-themed snake ring is something they'd want to do anything. And many would probably be willing to do even more than buy merchandise (battle Katy Perry fans, sell a kidney, etc...) in order to see their goddess live on stage, singing her heart out, in a stadium packed with other fans who love her just as much.
It'll be a long wait until 2018, kids. But in the meantime, never fear. There will always be new Taylor Swift think pieces to keep you occupied.