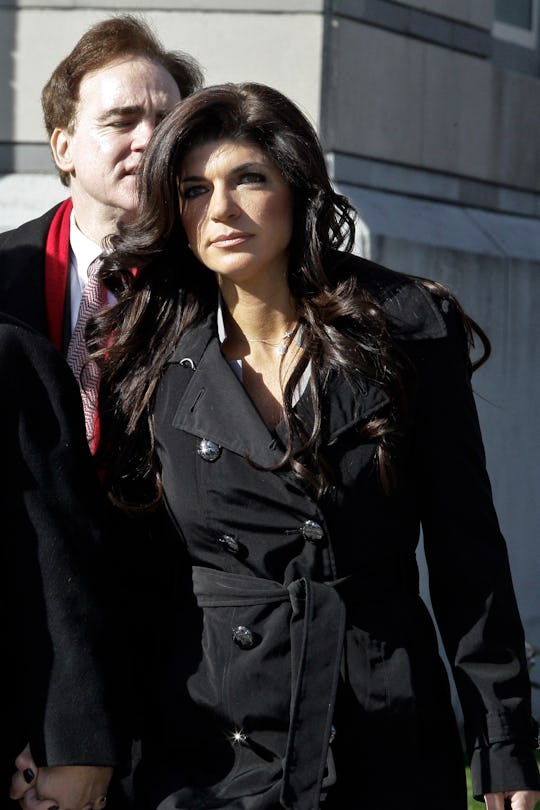 Will Teresa Giudice's Prison Release Be Filmed For 'Housewives'? After 11 Months, The Reality Star Is Free
Bravo couldn't have written it better themselves. Just two days before Christmas, Teresa Giudice has been released from prison after being indicted on several counts of fraud. But fans of the Real Housewives of New Jersey star are hoping for their own gift. Because with the reality star away from our TV screens for so long (11 months, to be exact), it's easy to wonder when Giudice will return to Real Housewives. Well, the holidays have not only gifted fans Giudice out of prison, but Giudice out of prison with the cameras in tow.
That said, fans are unlikely to see Giudice's prison exit on Wednesday. According to TMZ, cameras were not allowed to film the Real Housewives star leaving Connecticut's Danbury Correctional Facility. But the outlet also reports that the cameras will rejoin Giudice as quickly as she rejoins her family. (I mean, they're all basically family, right?) Reports TMZ:
The plan is to have them rolling as she gets back into her day-to-day routine with her 4 daughters, and husband Joe.
As for what fans will see, if they don't see her released from prison? While E! Online reports that Giudice returned home to signs in her home's window reading "We Missed You," RadarOnline reports that Bravo will be filming Giudice's reunion with brother Joe Gorga. And, hopefully, with the other housewives. Because, come on, after 11 months, celebration (and, duh, drama) is needed.
There still, however, are more questions about the filming, besides just what will be filmed. It's unclear as to whether or not the footage of the star, who is on house arrest until February, will be used for Season 7 of Housewives or a new special surrounding just Giudice. A special might be hard to resist, but considering the star's October special, The Real Housewives of New Jersey: Teresa Checks In didn't fare so well, the network might want to consider making it a central storyline for Season 7 instead. (The network has yet to confirm, however, just when Season 7 will premiere.) Of course, one could attribute the special's low ratings, however, to the fact that Giudice herself only appeared via phone.
But now that we can finally see Giudice's face again, fans are happy — and so is Bravo.
Image: Kena Betancur/Getty; Giphy.com