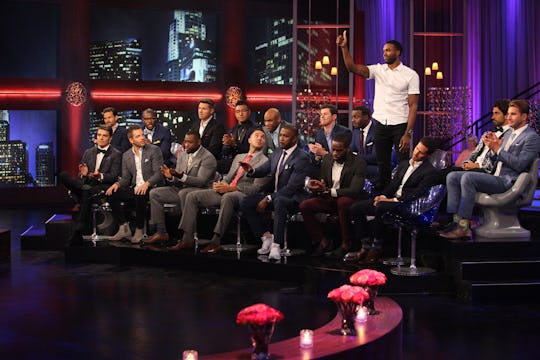 Paul Hebert/ABC
The 2018 'Bachelor' May Be Announced On A Very Special Night
By this time in Nick Viall's season of The Bachelor, Rachel hadn't even been eliminated on the show yet when she was being announced as the next Bachelorette. As the first black lead in the franchise, she was a historic choice that the show didn't want to wait until the After the Final Rose show to announce. But despite the mountains of fan speculation, we still don't know who the next Bachelor will be, but I can only assume the reveal is coming soon. So will the 2018 Bachelor be announced on Rachel's After the Final Rose?
Since the show has used After the Final Rose as a way of announcing who the next person trying to find love will be in the past, there's pretty good reason to believe we'll find out then. Although it won't air until next year, making the reveal on the last episode of the season would definitely be a good way to drum up excitement for the new guy.
As for who it will be, well, that's a completely different story. For weeks, there has been a very clear favorite to take over the mantle as the new Bachelor, although it might be time for fans to let go of that dream.
Yeah, fans really want Dean to be the next Bachelor. Like, really. After his elimination, #DeanForBachelor was trending on Twitter, which Dean later told The Hollywood Reporter was unfortunately nothing but a pipe dream. "I'd say I don't think I'm ready yet, at this point in my life," he stated, and went on to say that while he'd never turn down an offer, he'd have to "really think about it." His signing on for Bachelor in Paradise pretty much solidified that he has taken himself out of the running.
So how about any of the other men from this season? Well, for her part, Rachel doesn't want to see any of them as the next Bachelor, explaining that she's "slightly possessive over the men that were on my season." Which I can partially understand.
"All my top four would [be great], but I don't want to see any of them as the next Bachelor!" she recently told People. "Let's pick someone from JoJo [Fletcher]'s season." Which, hey, those guys are definitely still an option, but realistically, the ones from Rachel's season are naturally much fresher in the minds of the fans right now.
So at this point, I think the only thing we can assume with near certainty is that the next Bachelor will be announced on After the Final Rose. But until then, there's so much room for speculation.