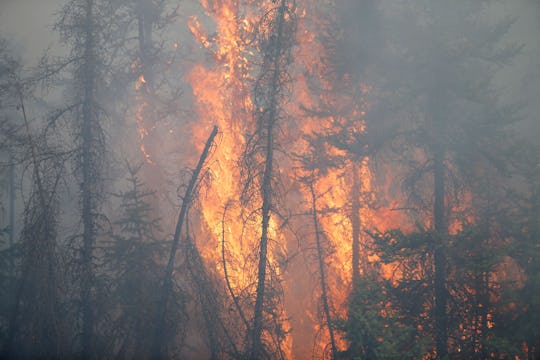 COLE BURSTON/AFP/Getty Images
Will The Alberta Fire Spread? The Canadian Wildfire Could Last Months
Wildfires are one of my biggest fears. In just a matter of hours, a small fire can become a very large one and cause an unrepairable amount of damage to homes and families. For the past week, a wildfire has been wreaking havoc on the Canadian province of Alberta and it doesn't show signs of letting up any time soon, causing further damage than it already has. So will the Alberta fire spread?
For the thousands of people who have had to evacuate their homes due to the fire, they are having to relocate again on Saturday, as the fire nearly doubled in size within just one day — according to NBC News. Those who got transported to evacuation camps in the north were forced to move to evacuation camps to the south, as the fire inched closer and closer North.
According to Canadian officials, the wildfire could be burning in the forest for a "number of months," but there was no word on when the wildfire in the suburbs would be under control. As of Friday the fire had grown to 600 square miles and by Saturday it was expected to exceed 1,000 square miles — extending its reach each and every day.
According to CNN, the wildfire is approaching Saskatchewan, a Canadian province neighboring Alberta to the north east. "The situation remains unpredictable and dangerous," said Public Safety Minister Ralph Goodale.
So what's been causing the fire to spread? Currently, Alberta is very dry and incredibly windy — conditions that make it easy for the wildfire to gain traction. The only thing that could make a significant dent in stopping the wildfire would be the weather as Alberta needs a massive storm sent from mother nature to help cool down the fire since firefighters can only do so much.
The wildfire's reach has been so powerful, even some parts of the United States have started to feel its effects. The Washington Post reported that a "huge plume of brown smoke" is now beginning to waft through the south eastern portion of the United States — where before it had been confined to Canada and both Dakotas.
The article does not mention whether or not the fire has the potential to spread past the U.S. border, but since the fire is spreading north, and the United States is located south of Canada, it's probably unlikely.
Until mother nature provides one powerful rainstorm, it is likely that the Alberta fire will continue to spread and cause damage to Canadian towns. Unfortunately, officials now believe that the fire could last for months. If nothing else, citizens can hope that response teams will be able to keep the flames relatively contained.