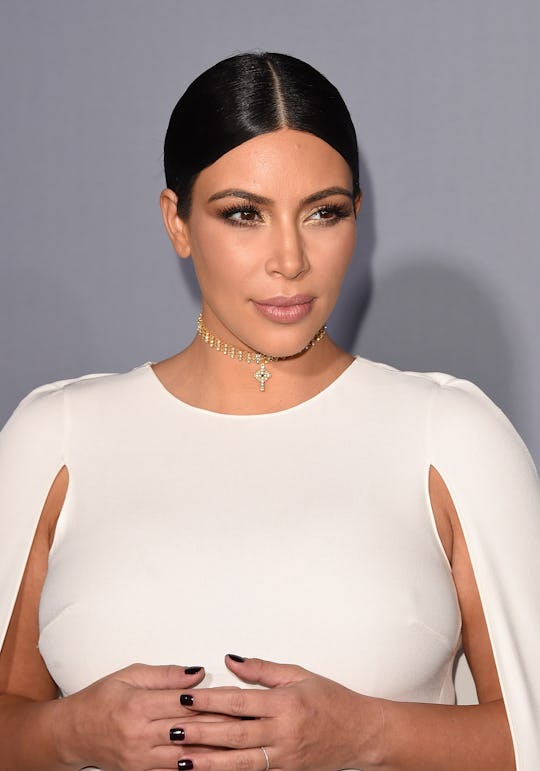 Will The Birth Of Kim Kardashian's Son Be On 'Keeping Up With The Kardashians'? We Might Have Some Hints
Now that the most highly anticipated tiny holiday-party goer has finally dropped on the scene, there's one (admittedly strange, but it's 2015 and this is where we're at as a society) question we've yet to learn the answer to: Will the birth of Kim Kardashian's son be on Keeping Up With The Kardashians? Look, I get that this might seem like a weird thing to wonder if you've been living in a vacuum, but I'm going to assume that you haven't been and are thus aware that this is how the Kardashian/Jenner/West family operates: Every part of their lives is open for public consumption...but always on their terms. So while we will likely end up knowing everything there is to know about Kim's second labor and birth, there's no guarantee of how we'll learn those details — it might not be on camera.
So ultimately, there seem to be two conflicting forces when it comes to whether or not the birth of Kim and Kanye's son Saint West will be televised: There's the fact that cameras seem to be always rolling on this family, but then there's also Kanye's aversion to that kind of hyper-exposure. For someone who's brand is built on having a larger-than-life ego, Kanye has been known to be very protective when it comes to maintaining the privacy of his family; he rarely appears on any of the Kardashian TV shows, and while Kim remains a centerpiece of the televised division of the media empire, North's appearances have been very sparse. All of which is to say, this is a fair thing to wonder about.
When Kim gave birth to her first child, North West (maybe you've heard of her?), KUWTK cameras were not allowed in the delivery room (although Kim did record a very sweet message to her daughter on sister Khloe's phone, and we got to see that); When Kim and Kanye got married, pretty much every moment of the elaborate festivities was filmed...except for the actual ceremony itself.
Kim's birth with North isn't the only Kardashian labor room to remain camera-free: Even though older sister Kourtney opened up the births of her first two children, Mason and Penelope, to KUWTK film crews, her most recent birth, son Reign in December 2014, was not filmed. Could it be that after enough years of sharing seemingly every part of their lives with viewers, the family is increasingly discerning about which moments should remain just for them?
So what's our best guess about how the birth of Baby Boy West will play out on Keeping Up With The Kardashians? More of the same, basically: Maybe an excited, glowy montage of all the family members dropping what they're doing and rushing to Kim's side; a makeup-free shot of a nervous-but-happy Kim in a $3,000 sweat suit heading the the hospital... We'll probably see everything leading up to the birth, but no footage of the actual delivery room. And that's actually pretty wonderful. It's nice to know that even the world's most open and unabashedly revelatory family in the world knows that some experiences should only belong to the people in the room.
Images: Jason Merritt/Getty Images; kimkardashian/Instagram; kourtneykardash/Instagram