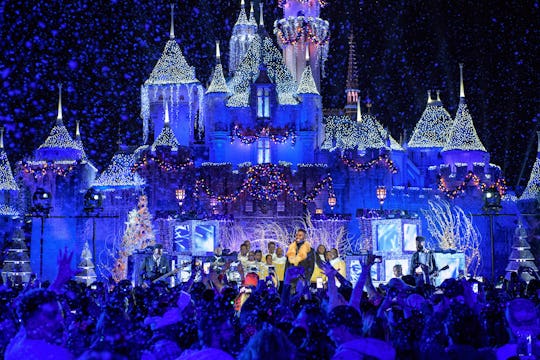 Handout/Getty Images Entertainment/Getty Images
Is Disneyland Safe From California's Wildfires?
As of late Thursday night, multiple wildfires ripped through Southern California, engulfing hundreds of thousands of acres in flames. Residents in the smoke-smothered region were forced to flee from their homes as firefighters work to contain six different blazes, according to CBS News. Hundreds of homes and structures have been destroyed by the raging fires, while thousands of others are threatened. And with the way the wildfires are spreading, some may be wondering if the California fires will hit Disneyland. Right now, it seems the landmark amusement park is safe from the flames.
A New York Times map of the wildfires shows that several blazes are tearing through the Los Angeles area, while a new blaze picked up in San Diego County. The destructive flames seemed to be concentrated in the Ventura County area, which is about 100 miles north of Anaheim, where Disneyland Park is located. Officials have given no indication to the press that Disneyland is threatened by the flames burning through Southern California. But, thanks to dry, windy, and hot weather conditions, the monstrous fires have spread across more than 12,000 acres in two days, according to The New York Times, so the danger level could change at any moment.
This is not the first time this year that residents and tourists worried about Disneyland's fate. In October, widespread wildfires ripped through California, including Orange County, causing thousands of residents to evacuate and damaging more than nine square miles of land, according to KTLA. A wind-driven brush fire forced people to leave their homes in Anaheim Hills, which is located about 13 miles away from Disneyland Park, Newsweek reported that month.
Smoke choked the region, and flames tinted the sky orange. Workers, visitors, and journalists took to Twitter to post images and videos of Disneyland set against the menacing orange backdrop, according to Newsweek. On Oct. 9, a WABC host tweeted, along with a photo of a park attraction,
Families are pushing thru, but asthmatic cast members have called it quits, leaving some things short-handed.
Many people worried then that the famous theme park and resort would shut down — a rare occurrence for the business. The Orange County wildfires in October caused some area businesses to close, and forced police officials to shut down highways, according to Patch. But a Disneyland spokesperson confirmed to Romper that the amusement park remains open and that there would be no changes to operations.
Although Disneyland is not in danger of being destroyed, the brutal wildfires do have officials and residents extremely concerned. The abnormal weather conditions have fed the flames, leading to rapid growth overnight, according to The Los Angeles Daily News. Chris Harvey, a spokesperson for the California Department of Forestry & Fire Protection (CalFire), said at a press conference Wednesday afternoon, according to the Daily News,
There's so much shifting weather and fire activity that it's hard to keep a map updated — it's burning so fast. As we saw in the fires in October in Northern California, a swift-moving, wind-driven fire in the middle of the night can take residents by surprise.
The Thomas fire — the largest and most destructive of the six major wildfires tearing through Southern California — is 10 percent contained as of Friday morning, according to CBS News. The second largest, the Creek fire, is 40 percent contained. CalFire officials told CBS News that, in total, the flames burned 220 square miles and wrecked 500 homes as of very late Thursday night.
Check out Romper's new video series, Romper's Doula Diaries:
Watch full episodes of Romper's Doula Diaries on Facebook Watch.