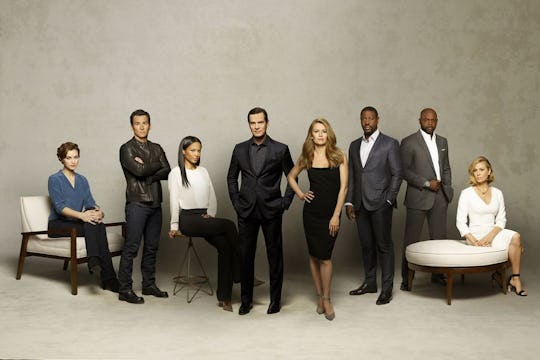 Craig Sjodin/ABC
Will 'The Catch' Return For Season 2? The Fans Sure Hope So
The Catch is more than half way through it's first season and although it's been doing well, it doesn't feel like — to this fan — that it has picked up the huge following that other Shondaland shows have (How to Get Away with Murder, for example, was an instant obsession). The new addition to Shonda Rhime's "TGIT" line-up started its premiere episode only receiving 5.8 million viewers overall and a 1.2 rating (number of estimated people in each household watching) amongst adults 18-49, according to Variety. With just a handful of episodes remaining, you may be wondering if The Catch will return for Season 2.
Since the premiere, The Catch's ratings have been up and down. It's ratings dropped by about 17% in the following week, according to Variety, and last week it's ratings were still only 1.0 although it was the leading show in it's time slot. Even so, in comparison to the other Shondaland shows, The Catch just isn't holding up. Last week Grey's Anatomy had a solid rating of 2.0 and Scandal followed with a strong 1.6 but viewers seemed to drop off completely after that. It seems that although there's a great lead in to The Catch the show just hasn't, dare I say, caught Shondaland fans just yet.
Could it just be because the show is still getting it's footing? Possibly. It takes a bit to develop characters, especially those as intricate and complex as those on The Catch. A slow burn isn't necessarily a bad thing. While The Catch doesn't trend on Twitter like its "TGIT" counterparts, (remember Grey's Anatomy and Scandal have had fans for seasons and seasons now) it's fans that are pushing for the show to continue.
Whether or not The Catch has a big following, those that do watch it are completely hooked and loyal fans. Just like with most Shondaland shows, most viewers can't help but wonder what's going to happen next, which is what keeps them coming back for more. Will Alice and Ben work out? Will The Benefactor kill Alice, or will he even get Ben? What's going to happen with Val and Agent Dao? There are still a ton of questions left to answer, and a second season might be needed to get to those burning questions.
With the guest appearance of Samira Wiley from Orange is the New Black on a previous episode, and it's first important character death (sorry Qasim, but you don't count), The Catch is definitely stepping up their game with these last few episodes. Maybe it'll be enough to get it to another season.