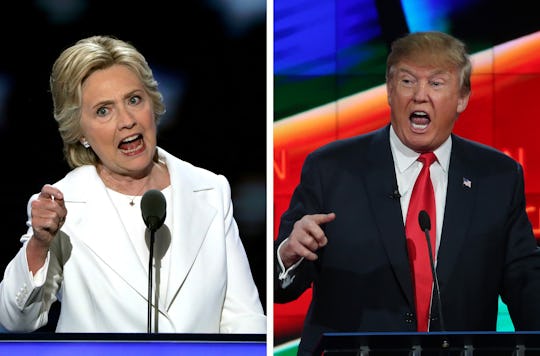 Alex Wong/Getty Images News/Getty Images
Will The Commander-In-Chief Forum Be Re-broadcast? Clinton & Trump's Meet-up Will Be Epic
Presidential nominees Donald Trump and Hillary Clinton will both make appearances at the same event on Wednesday night. Both candidates will sit down with Matt Lauer for in-depth interviews on topics ranging from national security to veteran affairs. The Commander-in-Chief Forum, presented by NBC News and the Iraq Afghanistan Veterans of America, will put Clinton and Trump on the same stage for this first time since the campaign began. The historic forum will begin at 8 p.m. ET and will take place at the Intrepid Sear, Air, and Space Museum in New York City. It will simulcast on both NBC and MSNBC in most of television's major markets. Clinton and Trump's epic meet-up won't be re-broadcast, however, it is possible to live-stream the forum.
To ensure that the optimum number of people are able to view this event, NBC has created a live-steam for the forum. The stream will be accessible as soon as the Commander-in-Chief forum begins at 8 p.m. ET. This means it will be available at 5 p.m. PT and 6 p.m. MST. NBC is asking the question, "Who is better qualified to serve as America's next Commander in Chief?" and hopes as many Americans as possible are able to tune in on Wednesday night to decipher that answer.
The forum is set to last one hour. Clinton and Trump will appear on stage separately. Clinton will speak ahead of Trump, which was decided in a coin toss by NBC managing editor Dafna Linzer after both candidates requested to appear in the second time slot. Both candidates will be sitting down with Lauer for an extended interview to field questions on national security, the military, and veteran affairs. They will also each take questions from the audience, which will consist mainly of military veterans and active service members.
The Commander-in-Chief forum is the first time the candidates will appear together on the campaign trail, however, it is not the last. The first of three debates will take place on Sept. 26 at Hofstra University in Hempstead, New York. There was some doubt that Trump would agree to participate in any of the three scheduled debates. The Republican nominee told Time Magazine last month that he would not commit to participating in the debates until the moderators were announced because "certain moderators would be unacceptable."
Anderson Cooper, Lester Holt, Martha Raddatz, and Chris Wallace were announced as the moderators. Trump confirmed he would participate in the all three of the upcoming debates this week. "I look forward to the debates," he said while speaking to reporters in Ohio on Monday, according to The Washington Post. "I think it's an important element of what we're doing. I think you have an obligation to do the debates." As long as you approve of the moderators, that is.