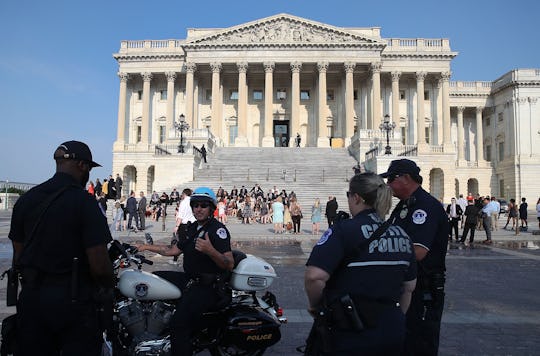 Mark Wilson/Getty Images News/Getty Images
Will The Congressional Baseball Game Still Happen?
Following the news of a mass shooting at a Virginia park on Wednesday morning, many are wondering, will the Congressional Baseball Game still happen? It's unknown at this time if the game will be affected, but the incident, which took place during the Republicans' last practice before Thursday's scheduled game, has sidelined one player. House Majority Whip Steve Scalise of Louisiana was injured, according to The Washington Post, as well as U.S. Capitol Police officers who were serving in Scalise's security detail, and a congressional aide. Due to Scalise's high rank in the House, he has a security detail around the clock. "Had they not been there," Kentucky Sen. Rand Paul said on CNN's New Day Wednesday morning, "I think it would have been a massacre."
Update: According to a tweet from Massachusetts Rep. Seth Moulton, the game will still proceed as scheduled.
Previously: Scalise's office released a statement affirming that the congressman was shot in the hip before being transported to a hospital for surgery, where he was in stable condition and good spirits. Republican team coach and Texas Rep. Roger Williams released a statement saying that a member of his staff was shot and "receiving medical attention." No further details were given. During a news briefing, Alexandria Police Chief Michael L. Brown said that following a shootout between police and a lone gunman just after 7 a.m., "five people were transported medically from the scene," according to the Post. That number is believed to include the shooter.
According to the Congressional Baseball Game for Charity's official site, the game has been held on a semi-regular basis since 1909, when it was conceived of by Pennsylvania Rep. John Tener, a former professional baseball player. After brief interruptions by the Great Depression, World War II, and two different House Speakers, the game has been played annually since 1962. Ticket sales support the Boys & Girls Clubs of Greater Washington, the Washington Nationals Dream Foundation, and the Washington Literacy Center.
According to a House of Representatives history of the series, initially only House members participated, but in 1950, senators began playing, as well. 1971 saw the first African-American player, and in 1993, Florida Rep. Ileana Ros-Lehtinen, Washington Rep. Maria Cantwell, and Arkansas Rep. Blanche Lincoln became the first women to appear in the starting lineup. Both teams still have a full roster of players, should the game proceed as scheduled at Nationals Park on Thursday evening. The first pitch is scheduled for 7:05 p.m., and tickets are still available, with prices ranging from $10 to $15.