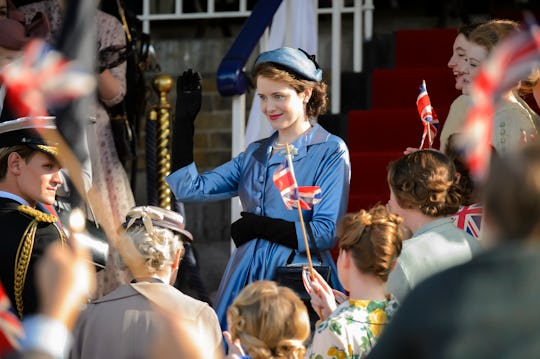 Alex Bailey/Netflix
Will 'The Crown' Return For Season 2? Queen Elizabeth II's Reign Could Last A While
After the wild success of the British historical drama, Downton Abbey, it's not all that surprising that Netflix is trying their hand in the genre with The Crown. The drama, released on the streaming service on Nov. 4, follows the life of Queen Elizabeth II, beginning from the time of her wedding to Prince Philip in 1947. The first season will focus on how the young Queen handles the start of her reign and how Britain recovers from the aftermath of World War II. So naturally, this leaves many people wondering whether or not The Crown will return for Season 2. According to reports, the series is expected to last for a total of six seasons.
With a budget of £100 million, The Crown is Netflix's most expensive project and it's clear the service is putting its full weight behind the show. According to The Telegraph, the current plan is for The Crown to have six seasons of 10 episodes each, similar to that of Game of Thrones. And while the show begins in 1947, the following seasons will continue throughout the course of history, leading all the way up to the present day. It's unclear if Claire Foy and Matt Smith, who play Queen Elizabeth II and Prince Philip respectively, will continue the roles all the way through or if the actors will be switched out as the series goes on. For now, though, it appears they'll at least be in Season 2.
No official renewal announcement has been made yet, though, it seems more like a mere formality at this point. In fact, according to The Knowledge, the second season of The Crown is already in early pre-production and set to start filming sometime this fall. With that timeline in mind, it wouldn't be surprising if we saw a second season around the same time next year. In the meantime, though, fans can enjoy watching (and possibly even re-watching) the first 10 episodes of Season 1, further proving that this series is well worth the wait.
The show is said to be filled with romance, politics, a bit of violence, and, of course, drama. If Netflix's goal is to replace Downton Abbey, they may very well succeed with The Crown.
You can watch The Crown on Netflix beginning on Nov. 4.