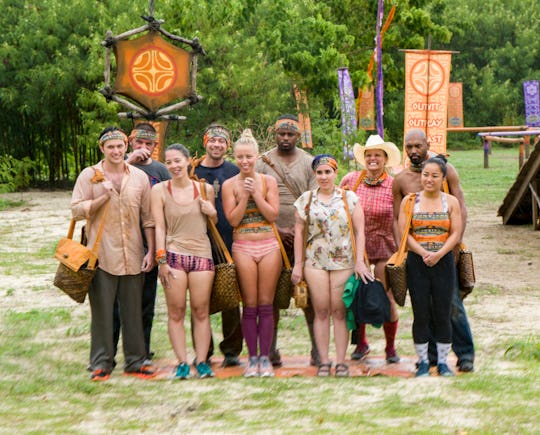 David M. Russell/CBS
The David Tribe Has A Secret Weapon on 'Survivor'
Survivor is back with an all new twist this year. For Season 37, the contestants have been divided into two teams — David versus Goliath. The "David" team features underdogs, while the "Goliath" team is comprised of advantaged favorites. The strongest players will emerge as the season unfolds, but because everyone loves an underdog story, fans are already rooting for the little guys to win. So, will the "Davids" beat the "Goliaths" on Survivor this season?
It's too soon to tell who will win this season of Survivor, but there's no doubt that the competition will be fierce. According to CBS, the "David" tribe consists of people who have overcome adversity in their lives, but also have hidden skills or "secret weapons." On the other hand, the "Goliath" tribe features contestants who have been able to "capitalize on their individual advantages," but with an unknown Achilles heel. The teams will be pitted against each other in Fiji's Mamanuca Islands, and will be forced to outwit, outplay, and outlast each other until there is just one Sole Survivor left.
The "David" tribe has a diverse range of players, and they are all bringing their own unique skill set to the game. The team includes people like Christian Hubicki, a robotics scientist from Florida, and 28-year-old MMA fighter Bi Nguyen, who used to sell cars for a living. The tribe also features tech writer Gabby Pascuzzi, who tells The Hollywood Reporter that she is not only book smart but emotionally intelligent as well, along with Carl Boudreaux, a Texas truck driver says he knows how to work hard towards a goal.
The "Goliath" tribe features its own set of champions, like pro-wrestler John Hennigan, whose nickname is the "Mayor of Slamtown" and S.W.A.T. officer Dan Rengering who tells THR that he's great at "verbal judo." Amazing Race alumni and School of Rock writer and actor, Mike White, also joins team Goliath, as well as publishing CEO Natalie Cole. Both teams have a lot to offer, and during the first episode, fans could see just how tough the competition will get.
In the very first challenge of the season, the Goliaths pitted their strongest players against the Davids' weakest players, with the David tribe given the advantage of choosing the course. The Davids managed to win the first challenge, but the Goliaths were quick to win the next. Unfortunately, right after their team lost, the Davids' boat hit a wave and Pat was injured. The tragic accident resulted in Pat's exit from the show, leaving the David team down one member.
As if surviving on a tropical island isn't hard enough, the teams are facing continuous bad weather. In a sneak peak of the second episode, you can see that the harsh conditions are beginning to bring down the toughest of players. The contestants end up weathering a major cyclone, and end up cold, wet, and shivering. "Since we started this game, we have just been in a constant state of being wet and cold and it's crushing," Goliath tribe member Angelina says. "Because it almost feels sometimes like, is the end in sight?"
Who will win Survivor is still unknown, so fans will have to wait for the finale to find out. But luckily, it looks like this season is gearing up to be one of the most interesting, and it will be riveting to watch this battle of weak vs. strong. Personally, I'm rooting for the David tribe, and I can't wait to see what kind "secret weapons" they pull out of their hats. I'm also excited to see what the Goliath tribe's Achilles heels are, and whether or not they prove to be advantageous for the competition.
Survivor airs Wednesdays at 8 p.m ET on CBS.