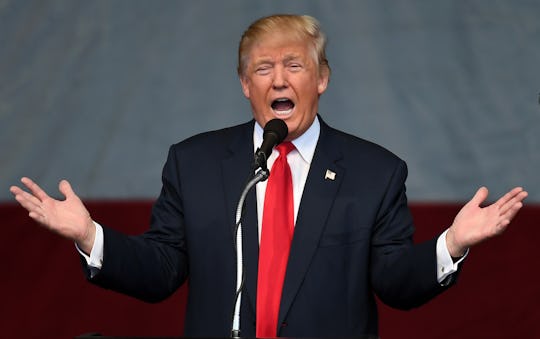 Ethan Miller/Getty Images News/Getty Images
Will The Debate Focus On Donald Trump & Billy Bush's Tape? Nothing Is Off Limits On Sunday
Republican Party presidential nominee, Donald Trump, is known for his unfiltered comments about anything and everything. On Friday night, The Washington Post released a video showing Trump saying lewd comments about women in a video from 2005. The timing of the video's release could not be worse — the second presidential debate is this Sunday. With the video being so newsworthy, people have to wonder will the debate focus on Donald Trump & Billy Bush's tape and their comments? Since pretty much nothing is off limits during the debates, it might be likely.
The debate will be held at Washington University in St. Louis, Missouri and air at 9 p.m. this Sunday on major news networks. The debate will be split up into two parts, according to Politico. Half of the questions will be asked by audience members who are "uncommitted voters picked by the Gallup polling organization." The other half will be asked by the debate's moderators, Martha Raddatz and Anderson Cooper. It is very possible that either the moderators or someone in the audience could ask a question about the video — which features Trump making some gross comments about women. While it is known that Trump has made some pretty lewd comments in the past, the timing of the release is notable. The debate will come just two days after a majority of people will hear the comments in the video — which include Trump talking about using his celebrity status to kiss women and his attempt to have sex with a married woman.
If neither Raddatz or Cooper ask a question about the video, an audience member could ask a question about women voters or women's rights — which could give Clinton the perfect time to bring up the video. If given the opportunity at any point during the debate, Clinton could mention the video or Trump's comments about women — similarly to how Clinton brought up Alicia Machado during the first debate. Clinton already expressed her distaste for the hot mic video, sending out a tweet to her followers, shortly after the video's release.
However, I hope that the debate's focus is not about the video and more about the issues that matter — things like foreign policy, domestic policy, women's rights, women's health, and equal pay. There were so many topics that were not discussed during the first debate and should have been. While things like race relations in the U.S., Russia, and the economy were addressed during the first debate, candidates also focused on arbitrary things — like how much Trump has traveled while campaigning, or whether or not Clinton has enough "stamina" to be president. But the first debate also showed voters to expect the unexpected — after all, Rosie O'Donnell's name was mentioned during the first debate — and O'Donnell is not currently relevant to U.S. politics. Like I said, both candidates talked about arbitrary things.
Since the first debate, Trump has been preparing for his next appearance. This past week, Trump held a town hall event in New Hampshire in the style of Sunday's debate. And according to CBS, for the second debate, Trump claimed he would stay on topic and not bring up Bill Clinton's past — which he threatened to do after the first debate. "I want to win this election on my policies for the future, not on Bill Clinton's past," Trump said in an email to Page Six. "Jobs, trade, ending illegal immigration, veteran care, and strengthening our military is what I really want to talk about."
While Trump claims he wants to focus on his policies, if the first debate taught voters anything it is that anything can happen and no topic is off limits.