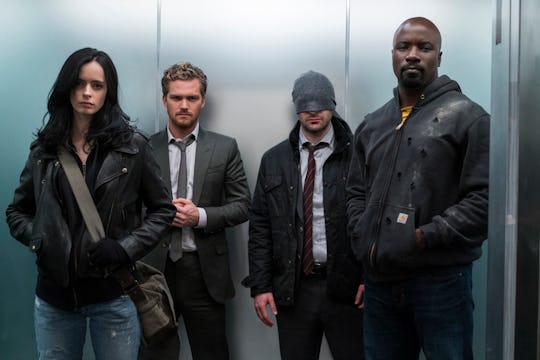 Sarah Shatz/Netflix
This Could Be The End Of The Road For Marvel's 'The Defenders'
It's time for the ultimate superhero team up. No, I'm not talking about the Avengers or Justice League. I'm talking about the Defenders. Now that Daredevil, Jessica Jones, Luke Cage, and the Iron Fist all had their own separate series on Netflix, it's time for this group of four to work together to save New York. The first season of The Defenders will finally be released on Aug. 18, but fans are already wondering will The Defenders Season 2 happen? Unfortunately, it's much too early to call.
The schedule for Marvel TV shows is pretty stacked up for the next few years, with the renewal of all four of the individual Defender series, as well as a new series starring the Punisher, who first appeared on Daredevil. Moreover, during San Diego Comic-Con, Marvel TV head Jeph Loeb made it clear that a second season of The Defenders was not at all guaranteed.
Instead, according to Screen Rant, Loeb indicated that there will probably just be more crossovers amongst the Marvel Netflix shows rather than another massive team up. For example, fans can probably except to continue seeing nurse Claire Temple appearing in every series and Misty Knight is already scheduled to appear in Iron Fist Season 2.
While this may not be what fans want to hear, this could be a better way of doing things. The problem with having one massive team up is making sure all the characters are included, which isn't always easy to do when you combine characters from four different shows.
Still, it would be nice to see another season of The Defenders down the road, and Krysten Ritter, who plays badass Jessica Jones, certainly agrees — though her reasoning is a little different than that of fans. As an actress, The Defenders is Ritter's idea of a "dream job," since she only had to work about three days a week, splitting her onscreen time with the other superheroes. Whatever her reasoning, she's made it clear she's totally down for Season 2. "If they want to do a Defenders 2. I'm in," she told Cinema Blend.
Hopefully, if the show receives a lot of positive feedback and lots of people watch it, Marvel and Netflix will decide to give it another installment. If the show does end up getting renewed though, fans probably won't be seeing that second season for a while. However, if The Defenders' first season is as good as it seems, people will surely be willing to wait for Season 2.