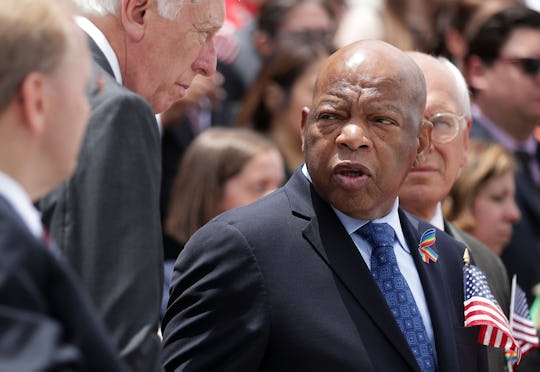 Alex Wong/Getty Images News/Getty Images
Will The Democrats' Sit-in Actually Make A Difference? It's Unlikely
Over 50 Democrats staged a "sit-in" in the House of Representatives on Wednesday to protest Republicans' refusal to allow a vote on gun control following the shooting rampage in Orlando that killed dozens. Several Democrats sat on the House floor and refused to budge until the GOP allowed the vote, which would bar the sale of guns to suspected terrorists. The protest shook up House Republicans, who immediately called for a recess. But will the Democrats' sit-in actually make a difference?
It is unlikely. For over a week, Democrats have been trying to pass a bill that would prevent people on the government's "no fly list" from obtaining weapons. Led by longtime civil rights advocate Rep. John Lewis of Georgia, Democrats read aloud the names of the victims of the Orlando shooting and took turns calling for stricter gun control.
"Today we come to the House to dramatize the need for action. Not next month, not next year, but now. Today," said Lewis on the House floor. "Give us a vote. Let us vote. We came here to do our job. We came here to work."
The protest, which began at noon, could stretch until tomorrow, according to Politico. Congressional staff brought the representatives cokes and water to keep them going. C-SPAN did not broadcast the protest because it cannot operate when the House is in recess, so Democrats took to social media to publicize their efforts.
The House is set to go on break this Sunday, but Democrats chanted for the break to be postponed, chanting "No bill, no break."
But Republicans did not seem swayed. AshLee Strong, a spokesperson for House Speaker Paul Ryan, tweeted that the House "cannot operate without members following the rules of the institution, so the House has recessed subject to the call of the chair."
Even if the vote does occur, it is unlikely the legislation will be passed. Last week, after a 15-hour filibuster, Senate Democrats finally succeeded in having a vote on gun control. On Monday, all four measures proposed failed. Following the vote, White House Correspondent Josh Earnest blasted Republicans on MSNBC for failing to act. "Gun violence requires more than moments of silence. It requires action. In failing that test, the Senate failed the American people."
Democrats have become increasingly aggressive in attempts to push for gun control. Last week, Democrats walked out on House Speaker Paul Ryan's moment of silence for the victims of the shooting.
As the Democrats' recent protests make clear, the need for gun control is dire. But a call for a vote in the House is unlikely to change things, unless Republicans start voting differently. Still, you have to admire Democrats' boldness.
"Sometimes you have to do something out of the ordinary. Sometimes you have to make a way out of no way," said Lewis. "Now is the time to get in the way."