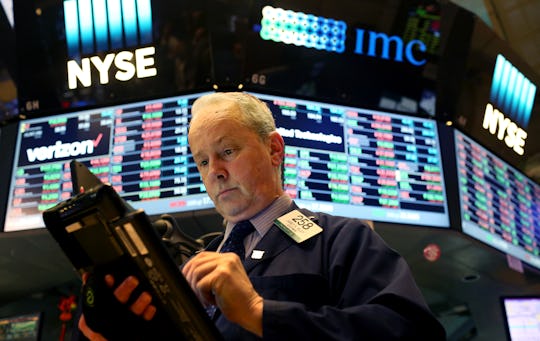 Yana Paskova/Getty Images News/Getty Images
Will The Election Wreck The Economy? The Dow Dropped More Than After 9/11
This election is a close one. As the results continue to roll in, the scarier it becomes — the poll projections are no longer right. We are one step closer to a Donald Trump presidency. As the numbers come in, the stock market continues to go down. Yikes. So will the election wreck the economy? Let's just say, it's not looking too good right now.
As your friends, co-workers, and Democratic family members react to the election results, so is the economy. To put it in simpler terms, the economy is acting like your best friend who is booking their last-minute tickets to Canada and finding the quickest escape route from the country. According to Forbes, the DOW industrial average has dropped nearly 650 points in after-hours trading — putting the U.S. stock market down 4 percent. The Mexican peso is also down, according to Forbes. Can't keep up with stock-market talk? Basically, according to USA Today, it means that traders are incredibly anxious about a Trump presidency. It means that investors were just as surprised as your liberal best friend. But what does this mean for the economy? A surprise Trump win could mean that even the stock market and investors are not confident about a Trump presidency, and who knows what will come from that.
According to The Nest, when DOW falls, "it can have devastating consequences." This means that people are not trusting the economy or the leadership involved, and therefore want to spend less money, which will subsequently not be good for the United States economy. So it is safe to say that people are panicking for a good reason.
Luckily, it is not all dire just yet. According to MSNBC, the same thing that is happening now with the stock market happened with Brexit — people got worried, the stock market plummeted, but then went back up again. "What I think that happens is we get a repeat of what happened after Brexit," Bruce Baird, chief investment strategist at Baird told MSNBC. "The market initially goes down and then goes back up... I would say a Republican win could mean a sharper down but then a sharper up to follow."
Of course, a Hillary Clinton presidency could mean a more stable stock market. But much like Donald Trump's unpredictable personality and stances on issues — we won't know how the stock market will react until Trump actually wins the presidency. Do not panic for now, and know that the stock market and the economy is capable of picking itself up again. Within a matter of days the nation (and your pockets) will know just how bad of a wreck the economy will be.