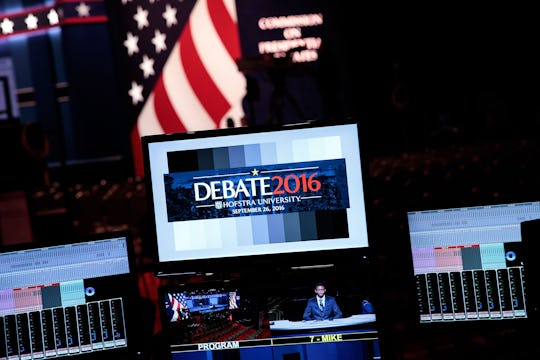 Drew Angerer/Getty Images News/Getty Images
Will The First Presidential Debate Cover Child Care? The Scheduled Topics Are Broad
The first presidential debate between Democratic presidential nominee Hillary Clinton and Republican presidential nominee Donald Trump is almost here: the two candidates will square off for the first time directly Monday night. According to The Hill, the debate will be taking place at Hofstra University on Long Island, New York, will be moderated by NBC's Lester Holt, and will be broadcast without commercials on pretty much every major news network, beginning at 9 p.m. Eastern Time. Although the three topics of the first debate — "securing America," "America's direction," and "achieving prosperity" — have been publicly announced, it's unclear exactly what kinds of questions will be asked specifically. Will the presidential debate cover child care policy? It's possible. According to The Hill, "at least 30 minutes of the debate will be focused on national security," but it's also expected that debate questions will focus heavily on the economy, and child care is certainly an issue that has huge financial implications for most families in the United States.
Both Clinton and Trump have unveiled child care policies that are designed to help families with the high cost of child care, with Trump's daughter, Ivanka (herself a working mom) cited as the inspiration behind her father's child care plan, according to NBC News. For Clinton, child care has been a central issue even before she announced her presidential bid. In fact, according to NBC News, the last public event Clinton attended prior to throwing her hat into the ring was launching a child care initiative at an early childhood development center in Brooklyn, New York. Since both candidates have thrown some weight behind their child care plans, it's possible it might be asked about tonight. And if so, it'll be worth understanding the differences between the two policies ahead of time.
Paid Maternity Leave
One big issue that both candidates have addressed in their respective child care policies is maternity/family leave. Given that the United States is literally the only developed country that doesn't guarantee paid leave for mothers after giving birth or adopting, according to Forbes, it's definitely about time a universal strategy was discussed. Clinton's plan for paid leave calls for up to 12 weeks of paid leave at a rate of at least two-thirds of the parent's regular salary, paid for through an increase in taxes on the wealthy, according to The New York Times. (Fathers would also be eligible for paid leave under Clinton's plan). Trump's plan isn't quite as generous — it would only allow for six weeks of paid leave, paid for by unemployment insurance, meaning that the amount parents would receive would vary significantly based on where they live — but both would at least be an improvement on the existing state of maternity leave.
According to Forbes, the Family Medical Leave Act currently allows for up to 12 weeks of unpaid leave, but an estimated 40 percent of parents aren't actually eligible to take leave under the act, and of those who are, many can't afford to take unpaid leave anyway. According to the U.S. Department of Labor, only 12 percent of private sector workers are actually able to access paid family leave through their employers, which is pretty heartbreaking.
While both Clinton and Trump's plans would still fall far short of many other countries' family leave plans (mothers in Canada are guaranteed 52 weeks of total maternity leave, for example, while some countries, like Estonia and Czech Republic offer mothers more than double that, according to the OECD), it would make a big difference in the lives of many new parents, who may not otherwise be able to stay home with their newborns due to financial constraints.
Making Child Care More Affordable
Another huge barrier facing most parents in America? The high cost of child care once they've returned to work. Clinton and Trump have both proposed ways to make childcare more affordable for working parents, though as you might expect, their plans differ here as well. Trump's plan, according to The New York Times revolves mostly around tax deductions. Under Trump, parents would be able to deduct the cost of child care, "capped at the average cost of child care in each state," which ranges from around $5,000 to as much as $18,000 a year depending on where they live. Stay-at-home parents would also qualify for the deduction. Trump has said he would also improve upon the current Dependent Care Savings Account program, allowing families to deposit up to $2,000 a year per child tax-free, with the government matching up to $500 of that deposit for low-income families. Families can then use this money towards the cost of child care, or other expenses like private school, and unused balances are rolled over each year (currently, according to NBC News, funds must be used by the end of the year, and are available only through employers).
Clinton's plan, on the other hand, calls for caps on child care costs that would limit it to no more than ten percent of a family's income. That's a pretty radical idea, given that the average cost of child care would currently take up approximately 30 percent of the income of someone working minimum wage in America, according to the Economic Policy Institute. And that's only the average cost: according to The Washington Post, a parent earning minimum-wage in the District of Columbia, where child care is the most expensive, would be forking over almost their entire income at current rates. Despite the ambitious plan, Clinton has said it can be achieved through subsidies and tax credits.
Again, the fact that both Clinton and Trump have plans to ease some of the immense financial burdens faced by parents is encouraging. But critics have argued that neither plan truly addresses the necessary overhauls needed to make high-quality universal child care truly accessible for all families. What's also concerning is that Trump's plan seems geared more towards helping wealthy families than towards helping low-income families who feel the financial crunch the most.
According to The New York Times, Trump's tax deduction-heavy plan works out nicely for parents who have higher incomes, because they're the ones who pay the most tax. But low-income families "gain little or nothing from a tax deduction," because their taxes are already low or non-existent. Families earning as much as $500,000 annually are eligible for tax breaks for child care under Trump's plan, despite the fact that they aren't usually the families who are forced to spend a large chunk of their income on daycare. The other aspects of his plan, however, like continuing the Dependent Care Savings Account program, and offering a rebate to low-income families for up to $1,200 could be very helpful though.
Ultimately, there's no doubt that voters want their president to address child care one way or another, because it's something that so many families struggle with. And as with parental leave, the United States falls behind many other developed countries like Sweden, Denmark and France, who, according to the New Republic, all have government-subsidized, regulated daycare available to all families (not to mention generous parental leave policies as well). The United States might still be a long way off from that, but a move towards more affordable child care is an important first step. And that's something we'd all benefit from hearing Trump and Clinton elaborate on at the first debate if it gets chosen as a topic.