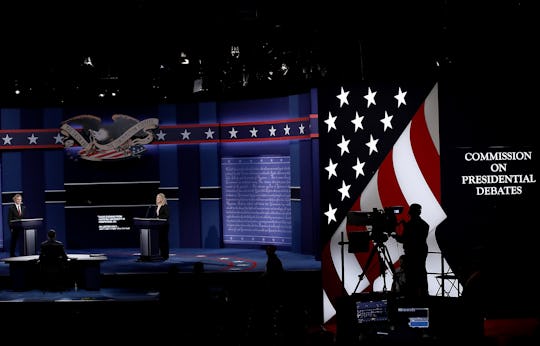 Win McNamee/Getty Images News/Getty Images
Will The First Presidential Debate Cover Equal Pay? There's Room For A Discussion
Forget Monday night football, this Monday night the only television program that matters (to a lot of American citizens) will be the first 2016 presidential debate. For the first time, Democratic nominee Hillary Clinton and Republican nominee Donald Trump will be able to defend their stances on issues and address each other on a public platform (that isn't Twitter). People are expecting a lot out of this first debate including mulling over the topics that the candidates will discuss. But will the presidential debate cover equal pay, given the outline previously distributed by debate officials?
On Monday night, Clinton and Trump will face off against each other at Hofstra University, in New York. NBC's Lester Holt will moderate the debate. According to the Commission on Presidential Debates, each moderator chooses topics for their debate they are in charge of moderating; Holt has chosen three very broad topics: America's Direction, Achieving Prosperity, and Securing America. Because of the breadth of the topics, a lot of social and domestic issues can fall into each of these categories.
Given that fact, there is no telling what kinds of specific questions Holt will ask, or what aspects of those topics will prove most pivotal to the evening's narrative. Since equal pay is an incredibly topical issue, and the fact that it can fall under each of the three aforementioned topics, this might be the opportunity for the topic of equal pay to shine and be debated in front of the audience it deserves.
For instance, equal pay could easily fall under the topic of "Achieving Prosperity" because in this election, being prosperous — achieving wealth and success in one's own terms — is important to the American people. How can we we as a nation come out of debt? How can graduates come out of college feeling less hopeless about drowning in student loans? And how can the nation narrow the gender pay gap?
For his part, Donald Trump sees prosperity as a huge — or "yuuuuge" — issue. According to Politico, just one week ago, Donald Trump declared he would create 25 million jobs over the next 10 years if elected president. But if Trump is set on creating jobs, then what is his stance on equal pay and how does it face off with Hillary Clinton's? Equal pay is an issue that has been incredibly important to the Obama administration. The first bill that President Obama signed into law was the Lilly Ledbetter act, which allows women more time to bring pay discrimination claims. The White House has also urged businesses to sign the equal pay pledge to be aware of their role in narrowing the pay gap. But it is unknown if Trump or Clinton will continue this progress once they're in office. But will Trump follow?
This year, Hillary Clinton too has called for stricter transparency laws to ensure that women and men are getting paid the same. According to Time, Clinton has even said that the pay gap is an issue that affects the "broader economy." Trump on the other hand, according to Time, has voiced "tepid support" for equal pay and has not made any clear proposals for equal gender pay. (According to The Boston Globe, Donald Trump's campaign reportedly pays women less money than men.) If the candidates broach that topic on Monday night, the showdown will undoubtedly be a fiery one.
Achieving Prosperity is a topic important to many American voters as it covers a wide variety of issues — including equal pay. When the candidates take the stage tomorrow, it will definitely be worth watching, to say the least.