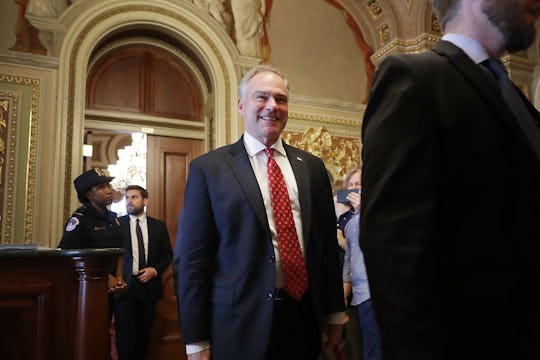 Chip Somodevilla/Getty Images News/Getty Images
Will The First Vice Presidential Debate Cover Abortion? It's Entirely Possible
After a riveting first presidential debate, voters are hungry to see more of the major party nominees argue their respective view points on the same stage. The vice presidential debate will be held this upcoming Tuesday at Longwood University in Virginia between Republican vice presidential nominee and current Indiana Gov. Mike Pence and Democratic vice presidential nominee and Virginia Sen. Tim Kaine will provide just that platform. The candidates' stances could not be more different from each other and the impending showdown will no doubt provide just as many fireworks as the first presidential face-off. So what issues will be covered on Tuesday and will the first vice presidential debate cover abortion — a controversial topic for two religious vice presidential nominees?
Anything can (and likely will) happen at the vice presidential debate, which was made very clear by Donald Trump and Hillary Clinton's performances during the first presidential debate last week: No one expected Trump to lose his cool, and according to The Atlantic, no one expected debate moderator Lester Holt to ask Clinton about potentially losing the election. If nothing else, the night proved that anything was on the table.
Therefore, it wouldn't be surprising if abortion were covered at the first vice presidential debate, no matter what the chosen (or perhaps preferred) topics for the night happen to be. It is not like the issue is completely out of left field — both candidates are religious and have not shied away from voting for or against women's rights and abortion in the past.
Kaine's stance on abortion is definitely complicated to say the least. Kaine is a devout Catholic, which is a religion traditionally against abortion. According to Politico, while running for governor of Virginia in 2005, Kaine "pledged to reduce the number of terminated pregnancies in the state." But since being in the Senate for four years, Kaine has been "an abortion rights champion." Kaine has even received a 100 percent rating from the Planned Parenthood Action Fund for his voting record on women's rights.
However, at times it can feel like Kaine is conflicted about abortion — and if it is discussed at this vice presidential debate, there is no telling how he'll respond under pressure.
On the other hand, Mike Pence is an evangelical Christian and was raised Catholic, according to The New York Times. It is his religion that has driven him to become "a conservative hero": According to The Times, Pence has signed anti-abortion measures every year since 2012 as the Governor of Indiana. Mother Jones claims that Pence has reportedly urged the state to slash Planned Parenthood funding and in March 2016, signed a measure "prohibiting women from obtaining an abortion because of the race, gender, or disability of the fetus."
Unfortunately, with just two days until the vice presidential debate, the topics that will be argued are still unknown. ABC News reports that the Commission on Presidential Debates will not announce the topics beforehand, which means that Kaine and Pence will have to be ready for anything. If abortion happens to be one of those topics, it appears both candidates will have plenty to talk about.