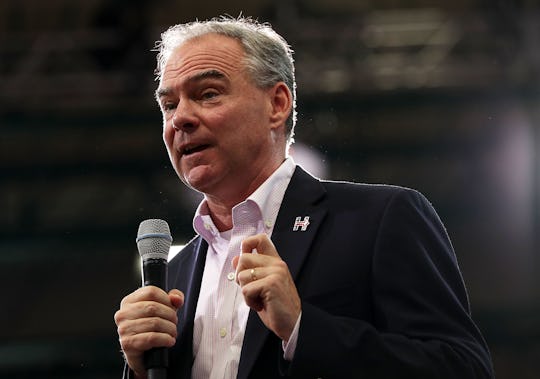 Alex Wong/Getty Images News/Getty Images
Will The First Vice Presidential Debate Cover Same-Sex Marriage? Many Hope It Does
Tomorrow's vice-presidential debate will likely cover a number of divisive topics that have received a lot of attention this election season, particularly immigration. But just as presidential candidates Hillary Clinton and Donald Trump have opposing views on many of the most important issues, so do their running mates — especially when it comes to same-sex marriage. Will the first vice presidential debate cover same-sex marriage? If the topic of same-sex marriage does come up, it should make for an interesting conversation.
The 90-minute debate will be segmented into nine topics, with 10 minutes of discussion on each topic. One reason why it is hard to say whether same-sex marriage will come up is because the candidates won't be coming up with questions. Rather, the topics will be determined by the debate's moderator, Elaine Quijano, a CBSN anchor who has covered the War on Terror, the 2008 financial crisis, and President Obama's bid for comprehensive immigration reform. The topic of same-sex marriage was ignored during the 2012 vice-presidential debates between Joe Biden and Paul Ryan.
Clinton's running mate is Tim Kaine, Virginia's junior United States Senator, while Trump's running mate is Indiana Gov. Mike Pence. Although neither is as publicly known as Clinton and Trump, each have years of political experience.
"Kaine-Pence will most likely produce a very substantive and policy-driven debate," Tucker Martin, a Republican strategist, said in an interview with The New York Times regarding the debate.
One reason it will be interesting to see if policy on same-sex marriage comes up is because over the years, Kaine has completely switched his stance on same-sex marriage.
When he was running to for governor in Virginia, he made it known that he opposed same-sex marriage in a 2005 radio campaign called "Conservative."
"I'm conservative on personal responsibility, character, family and the sanctity of life," Kaine said in the ad. "I'm against same-sex marriage." But over the years, Kaine became an advocate for same-sex marriage and gay rights, and he fought to oppose a Virginia amendment banning gay marriage.
"My thinking has evolved on it because of people I know, so many gay and lesbian folks, some in longtime relationships who are great parents," Kaine said in an interview about same-sex marriage with the Richmond-Times Dispatch.
Pence, meanwhile, has been firmly against same-sex marriage in his time as Indiana's governor.
In a speech as head of the Republican Study Committee, Pence said that banning same-sex marriage is an enforcement of "God's idea," and does not discriminate against gay people. In March 2015, Pence also signed a bill that allows Indiana business owners to refuse service to LGBT customers based on their religious beliefs.
Kaine has criticized his opponent's anti-gay beliefs. "He ran a one-man crusade to allow Indiana businesses to discriminate against LGBTQ Americans," Kaine said at a Human Rights Campaign dinner, CNN reported. "Yet Donald Trump saw this and thought, this is the person I want helping me govern this country."