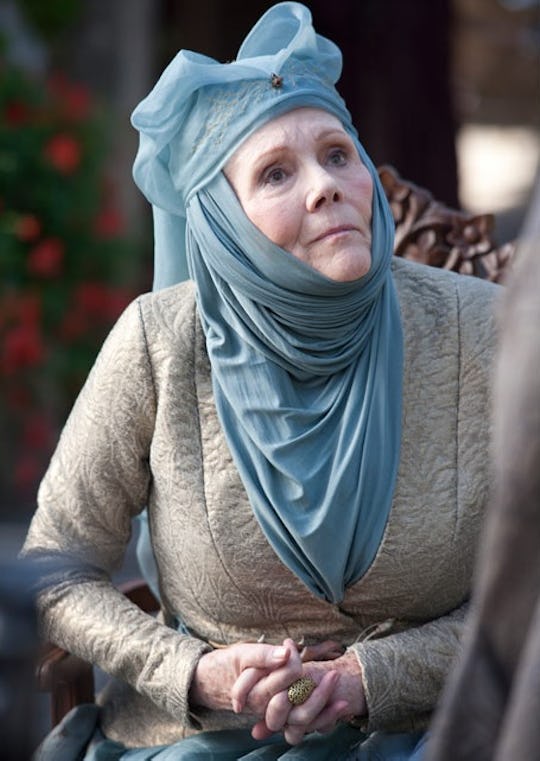 HBO
Will The High Sparrow Kill The Queen Of Thorns On 'Game Of Thrones'? She Has His Attention
Now that Margaery and Cersei have gotten out of religious jail on Game of Thrones, the High Sparrow seems to have set his judgy eyes on the Queen of Thorns, Margaery's grandmother, who is nothing short of amazing. But will the High Sparrow kill the Queen of Thorns? With her leaving King's Landing to return to High Garden and safety, it doesn't look like it will happen anytime soon, but what The Faith wants, it seems to eventually get — the crown on its side, for one. Unfortunately for Olenna Tyrell, her biggest strength, besides those amazing one-liners to Cersei, is her loyalty to her grandchildren, which also proves to be a huge weakness.
As The High Sparrow makes it clear that the Queen of Thorns is also a sinner, he lets viewers of Game of Thrones in on the possibility of arresting Olenna too, on his tirade of cleaning King's Landing. Luckily, Margaery seems to be having a long con going on and lets her grandmother in on that, in the only way she can with Septa Unella (that stone-faced nun-esque companion of hers) standing nearby.
But to refresh your memory, let's take a look at Olenna's big sin. At least, the one publicly known at this point. She obviously knew of her grandson's penchant for other men since as far back as Season 3 when she told Tywin Lannister that Loras was a "sword swallower, through and through." But being the awesome nana she is, she didn't shun the kid for it at all. In the eyes of The Faith, though, her knowledge of his actions makes her just as guilty, exactly as they'd seen Margaery guilty. So by that thinking, the Queen of Thorns is just as guilty as her condemned grandchildren and makes a fine victim for the High Sparrow.
We should also remember the fact that aside from Cersei, Olenna Tyrell is one of the last people in King's Landing who dare to go against The Faith, making her an easy target now that Cersei has had a Walk of Atonement and has a trial to look forward to. The High Sparrow already manipulated Tommen into getting rid of Jaime and likely believes Cersei will be gone soon enough, so Grandma Tyrell is the next logical opposer to set their sights on.
Thankfully, the old timer always seems to be a step ahead of those who rally against her. Okay, except for when her grandchildren were actually arrested, but let's not go there. The Queen of Thorns will probably get out of King's Landing before the High Sparrow can kill her or have her killed, but it will definitely not be the last we see of her. And rightfully so. Anyone who can serve it to Cersei like that deserves to survive them all on Game of Thrones.