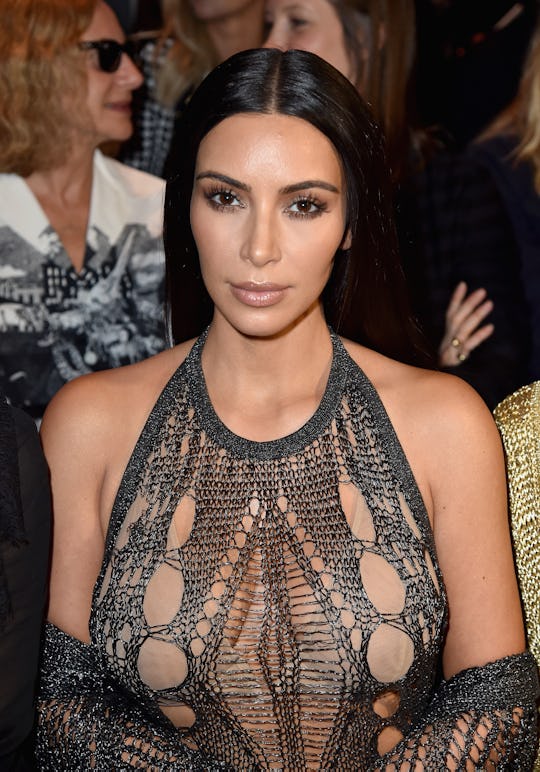 Pascal Le Segretain/Getty Images Entertainment/Getty Images
Will The Kim Kardashian Robbery Be On 'Keeping Up With The Kardashians'? It's Terrifying
Reality TV star Kim Kardashian was robbed at gunpoint while in Paris, and the news spread quickly as fans learned about the terrifying ordeal in which Kardashian was locked up and robbed of a reported $11 million worth of jewelry. After finding out that Kardashian and her kids were safe, though, the next question fans had was, clearly, whether they'd be watching Kardashian's robbery on Keeping Up with the Kardashians.
According to Us Weekly, Kardashian will luckily be keeping that unpleasant moment private. "Keeping Up With the Kardashians was not filming at the time of the robbery. Our focus right now is entirely on Kim's well-being," a spokesperson for E! told Us Weekly. "All of us at E! are incredibly thankful that Kim Kardashian West is safe, and we send her and her family our love and support."
It makes perfect sense that Kardashian's robbery wouldn't be on Keeping Up with the Kardashians, for a couple of reasons. First of all, what kind of successful thief robs someone in the midst of filming? Second, what kind of film crew stands idly by and watches someone get robbed without stepping in or, you know, calling the cops?
Either way, Kardashian's representative told Us Weekly that Kardashian was "badly shaken" by the event, so it's for the best that her personal ordeal won't be broadcast to the entire world.
Kardashian's robbery took place at her private residence in the Hôtel de Pourtalès building in Paris on Sunday. Kardashian was tied up, gagged, and locked in her bathroom as five thieves — dressed as French police — stole $11 million worth of her belongings. Luckily, Kardashian was physically unhurt during the debacle. Soon after the robbery, she hopped on a flight back to New Jersey and was joined by her husband, Kanye West, in their New York City apartment, according to E! News.
Considering the Kardashian family's openness on their show, fans might learn more about Kardashian's robbery during upcoming episodes or notice her absence on air. (On the other hand, the family can also be fiercely protective of their own — so Kardashian's robbery might never be mentioned again.) Since the robbery, Kardashian has not posted on Twitter or Instagram, despite her usual affinity for social media, so it might be a while before she's back to her day-to-day.
Hopefully, Kardashian is recovering from the surprising ordeal at home, safe and sound and surrounded by her family. And for fans who were hoping to catch some drama on Keeping Up with the Kardashians, never fear — the Kardashians' lives are fast-paced and interesting enough that nobody needs to see Kardashian's terrifying robbery aired live.