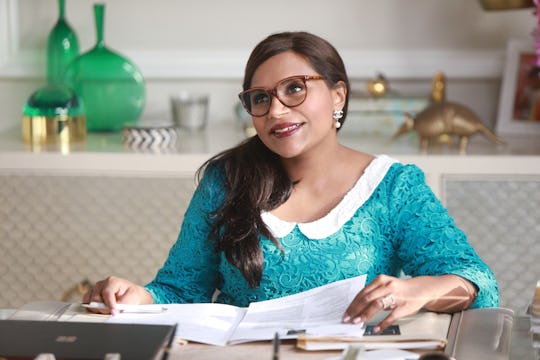 Jordin Althaus/Hulu
Here' How 'The Mindy Project' Could Live On After The Series Finale
The end is here for The Mindy Project. After six seasons and over 100 episodes, Mindy Lahiri's story is coming to a close, and for many fans it's too difficult to say goodbye. But is this really the end or will The Mindy Project return some day?
Show creator and star Mindy Kaling has seemed pretty clear that this is really the end of the road for the series, and even revealed to Glamour last month that she was still struggling to come to terms with the show really being over. "I have to face the end of the show in a real way, and each day [it] gets a little bit harder and sadder to be around [set]," she said.
That being said, she's also excited for the finale because she loves TV series finales in general, though she said she didn't draw inspiration from any specific show. "I wanted people to watch [the finale] and feel closure, but in an unexpected way," she said. "We also wanted it to be incredibly cinematic and romantic. And funny, of course! Funny first, always."
With the hint of romance being in the finale, fans can't help but speculate that Mindy and Danny will rekindle their romance. Of course, no one would spill the beans, but Chris Messina, who plays Danny, did tell The Hollywood Reporter that the ending is "satisfying." "I think [fans] should be hopeful for something very unique and special," he said about the finale. "I think it's a very satisfying ending. When I read it, I felt it was a great way to end the show."
Whether or not Danny and Mindy actually end up together, it appears that this really is the end of the road for The Mindy Project, but maybe it's not the end for all of our favorite characters.
Prior to the finale, Ike Barinholtz, who plays Morgan Tookers, made a very cryptic Instagram post. Sharing a picture from his final day on set he wrote in the caption, "Just finished my final ADR for 'The Mindy Project' and I can't wait for you all to see the finale. That's a wrap on Morgan Ransom Tookers! (For now...)."
For now? What exactly does that mean? Could there possibly be a Morgan, and presumably Tamra, spin-off in the works? The two are getting married and expecting a child together. I would definitely watch a show about their life together. Laverne Cox could even costar as Cousin Sheena. It could be an amazing show, and definitely something I'd like to see. Still, it's totally possible Barinholtz is just messing with the fans, though I really hope not. Let's just keep our fingers crossed.
Besides a possible Morgan spin-off though, this really is goodbye to Mindy and all her incredible friends, coworkers, and interesting exes. At the start, Mindy was simply a woman who got drunk at her ex's wedding and rode her bike into the pool, before she showed fans she's also a badass OBGYN. Now, she's still killing it as a doctor, but she's also a great mom who's running her own fertility clinic. Mindy's come a long way and has been an inspiration, as well as the source of a number of laughs, for many people over the past six years.
Though it's definitely sad to see this journey come to an end, it's good to know that we can always come to back to the characters with a quick binge watch on Hulu. For now though, it's time to watch the series finale. You may want to grab a box of tissues; there'll probably be some tears.
The final episode of The Mindy Project is now streaming on Hulu.
Check out Romper's new video series, Romper's Doula Diaries:
Watch full episodes of Romper's Doula Diaries on Facebook Watch.