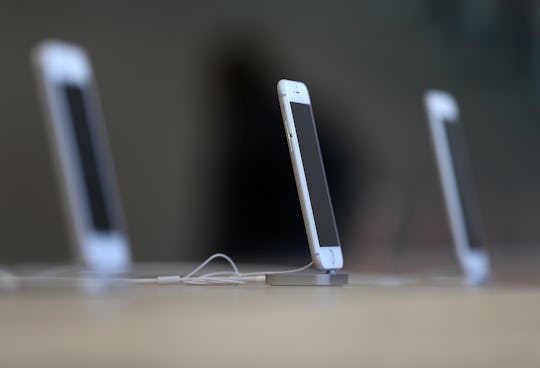 Justin Sullivan/Getty Images News/Getty Images
Will The New iPhone Be All Glass? Here's What We Know So Far
I, like most people I know, am obsessed with my iPhone. It is like another lifeline for me and the only way to connect with everyone and everything in the world in an instant. So when I heard rumors about the newest iPhone, I was sucked in. But what kind of features will the new iPhone have? And, going off the latest chatter from the rumor mill, will the new iPhone really be all glass?
Thanks to information leaks, mock ups, and even one confirmed account, there seems to be quite a bit that we know right now — so get pumped. On Wednesday Forbes reported that one of iPhone's long time structural framework makers, Catcher Technology, said that the new iPhone will be using a glass casing.
The validity of this rumor is pretty strong, as the chairman of Catcher Technology went on to explain just what kind of technology and cost goes into building a glass framework. This all glass model would be similar to the iPhone 4 released in 2010, that featured an all glass front and back. Apple then adopted aluminum elements for the iPhone 5 and switched to an all aluminum back and sides for the iPhone 6 and it's variations.
While the all glass phone is kind-of confirmed, the rest of this article is purely rumor and speculation — but here is what the Internet is saying about the next iPhone model.
A few weeks ago, Forbes also speculated that the newest iPhone would be edgeless, with the entire front of the phone serving as the display. Reportedly, the new iPhone won't even be labeled as iPhone 7. Instead, according to Forbes the newest iPhone will skip a model and be called the iPhone 8.
Sounds major — but there are also a few caveats to that sweeping new design. Think of about how many times you our your friends have shattered your iPhone's glass. Now think of your entire phone being an accident waiting to happen.
According to Mac Rumors, the new phone is also expected to have a dual lens camera, upgraded processor, two screen sizes, and a design similar to the iPhone 6s — but none of these facts have been confirmed and are different from Forbes' account, so take the information from both websites with a grain of salt.
In January, it was reported that the new iPhone would not have a headphone jack and communicate with headphones through Bluetooth technology. Because this was such an early rumor, I personally believe that this one feature is true.
So when can we expect the new phone? While Apple's annual Worldwide Developer's Conference will be held on June 13 through 17, where new product models and updates will be announced, many are saying that this isn't the time for the new iPhone. Following in tradition of when Apple announces their new phones, the new phone will likely to be announced and released in September.
There are a lot of new, exciting rumored features for the new iPhone and I cannot wait until September when the phone's real features are confirmed.