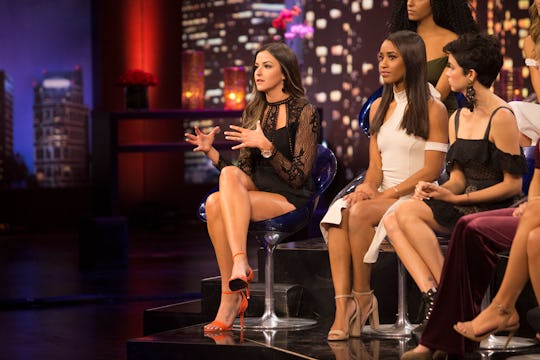 Paul Herbert/ABC
Here's Why You Shouldn't Expect The Next Bachelorette To Be Announced At The 'Women Tell All'
As much as I'm ready to find out who Arie finally chooses at the end of The Bachelor, the more important end-of-season question is who the next Bachelorette will be. I have a hunch it'll be someone from Arie's season, but will the next Bachelorette be announced at the Women Tell All special or will the ABC producers make us wait a little longer to find out? Patience is apparently something Bachelor Nation is going to need, judging by the reports of the taping of the Women Tell All special.
According to Variety, an outlet that was present at the time of the taping, Chris Harrison asks two of the fan favorites, Tia and Seinne, if they're interested in the gig, but it doesn't sound like they actually make a reveal. Likewise, Arie reportedly tells Harrison that he definitely has a favorite woman to take the lead in the next season of The Bachelorette, but he's going to wait until the season is over to reveal who it is. Fair enough, right?
Still, the Bachelorette is usually announced around this time, so the big reveal should be coming very, very soon. At the moment, Twitter has a few ideas for who should step into all those evening gowns for the next season: Tia, Sienne, and even Bekah M. are all popular picks. They're all really good choices, but the real question is whether or not they want the responsibility.
The problem with Bekah M. is that everyone already assumes that she's too young and not ready for marriage. But that's sort of hypocritical. She told E! News, "For one, I'm now 23, so much older and wiser now that I'm 23. JoJo was only 24 when she was the Bachelorette, and no one really made a big deal about that as far as I know." Which is a very, very fair point.
Still, the other contenders have some bigger fans. Former Bachelorette Rachel Lindsey, for example, is rooting for Seinne to take it on. "I am rooting for for someone in particular. I think Seinne is absolutely amazing," Lindsay said at the Go Red For Women Red Dress Collection Fashion Show in New York on Feb. 8. "So I'm rooting for her. If not to win, then to be the next Bachelorette."
Seinne might be ready for it, too, since she told Harrison that she was very "flattered" about all the social media love she's been getting, according to Variety.
Tia seems the most excited about possibly being the next Bachelorette, though, telling E! News:
Honestly, I wouldn't want to get my hopes up too much about being the next Bachelorette because I know there are some amazing women obviously in the running for it, but I think it would be great to continue in the Bachelor family, whichever outlet that may be.
So if she's not on The Bachelorette next season, it sounds like she's really into being on Bachelor In Paradise. Given that her bestie Raven Gates is now dating Adam Gottschalk after her time in Mexico, that might be a better option for the Arkansas-native. All of these women are amazing choices and seem to be at least vaguely interested in the idea of staying in the Bachelor family, but we're forgetting one amazing choice that would make a seriously amazing reveal for Bachelor Nation. Like Kristina Shulman from Nick Viall's Bachelor season.
After being on the Bachelor, Kristina went to Bachelor in Paradise and fell for Dean Unglert, which, as we should all remember, ended just disastrously. Everyone felt for her and to be honest, she would make the perfect Bachelorette, especially since she seems like she really wants to find true love. Last fall, Kristina told People that she would be open to the idea of becoming the next Bachelorette. "If asked to be the next Bachelorette, I would have to probably consider when the time comes to it because again, watching Bachelor in Paradise, it was a lot of emotion. It's hard to see yourself that emotional," she explained. "When the opportunity presents itself, if it does, I'll consider it then. But for now, I have to kind of learn from Bachelor in Paradise and move on from that."
Maybe that's why this reveal is taking so long — the network is still talking Kristina into opening up her heart on national television again. Hey, a Bachelor fan can dream, right?
Check out Romper's new video series, Romper's Doula Diaries:
Watch full episodes of Romper's Doula Diaries on Facebook Watch.