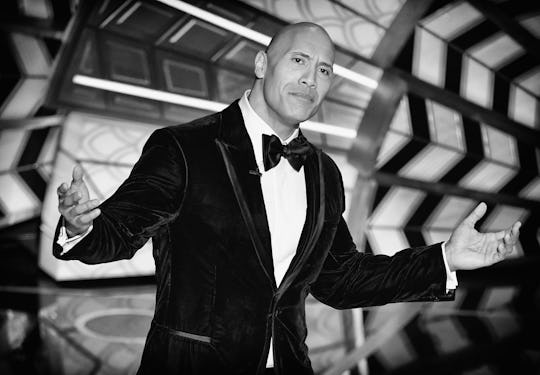 Kevin Winter/Getty Images Entertainment/Getty Images
Will The Rock Really Run For President?
Ever since the tumultuous 2016 election cycle concluded, there's been a certain energy in the air that makes people think almost anything could happen — especially in regards to the 2020 election cycle. Right now there's a celebrity commander in chief, so there's no reason to believe that a celebrity couldn't run next time around as well. Some in Hollywood are even publicly floating the idea, like The Rock, who sounds like he's considered running for president in four years.
In a recent cover story for GQ, The Rock — a.k.a. Dwayne Johnson — said that he'd be willing to give up being The Rock for a chance at the Oval Office. The former wrestler-turned-actor said that he started to consider it after he read an essay in The Washington Post by Alyssa Rosenberg that discussed all of the reasons as to why Johnson would be a viable candidate.
Johnson said,
There was a real sense of earnestness, which made me go home and think, "Let me really rethink my answer and make sure I am giving an answer that is truthful and also respectful." I didn't want to be flippant—"We'll have three days off for a weekend! No taxes!"
His conclusion? "It's a real possibility," Johnson told GQ's Caity Weaver.
In all honesty, it's not a terrible idea. Johnson thinks he could even cross party lines with his mainstream fan base, which is why both the Trump and Clinton campaigns approached him for an endorsement last year.
When asked why he didn't end up choosing a side, Johnson said:
I feel like I'm in a position now where my word carries a lot of weight and influence, which of course is why they want the endorsement. But I also have a tremendous amount of respect for the process and felt like if I did share my political views publicly, a few things would happen.
Johnson was scared of picking a side and swaying an opinion of an undecided voter just because they were a fan of The Rock. But he was also scared of angering some of his fans with his political views. Both of those things were just things Johnson "didn't want to do." At least he thought the whole thing out, which is more than some other politicians currently in D.C. can claim. (They know who they are.)
Judging from Weaver's profile of Johnson, he theoretically would make a pretty good politician. He has a sense of humor, he's charming, and would take the job seriously. At the very least, the country would be able to finally give Canada's Justin Trudeau a run for his money. And that alone just might be worth it.