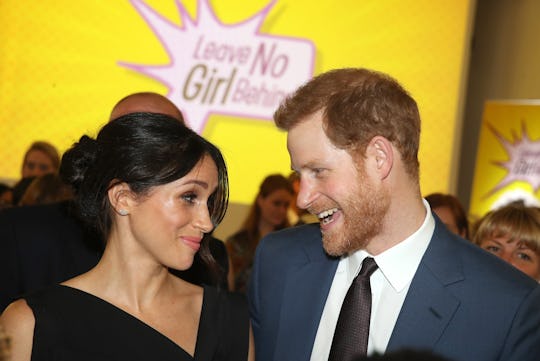 Chris Jackson/Getty Images Entertainment/Getty Images
Here's How To Watch The Royal Wedding Live On TV
So you didn't get invited to the hottest social event of the spring, probably because you're not rich or famous or even British. That's OK! There is still a way to watch Prince Harry marry American actress Meghan Markle, because the royal wedding will be televised live on several platforms in the United States. Just make sure that whatever type of tea you brew has plenty of caffeine in it, because the wedding is at noon local time, which translates to 7 a.m. EST. And of course, that's just when the ceremony starts; some of the coverage of guests arriving begins as early 4 a.m. on May 19 for American looky-loos.
The wedding will take place at St. George's Chapel at Windsor Castle, where 800 guests are expected to attend, in addition to over 2,000 more gathering outside the chapel (but within the grounds) to bear witness to the arrival and departure of the royal couple and their well-dressed friends and family members. Back in December, TMZ reported that a pool camera would be allowed in the chapel for all media outlets to broadcast, and it looks like that prediction was correct, because multiple networks stateside are planning some serious coverage, both at the wedding, and in the days leading up to it.
Nearly 23 million Americans tuned in for Prince William's wedding to Kate Middleton back in 2011, and it's likely that his brother's nuptials will fetch an even bigger audience, considering he's marrying one of our own. If you're not a fan of the USA series Suits, there's still ample opportunity to get to know the princess-to-be, because in addition to covering the wedding, there are several special programs planned that will give viewers a glimpse into Markle's back story.
NBC will broadcast special live editions of TODAY hosted by Savannah Guthrie and Hoda Kotb. They'll be presenting from an "exclusive location overlooking Windsor Castle" starting on Friday, May 18, and co-hosts Megyn Kelly, Kathie Lee Gifford, Al Roker, and Sheinelle Jones — as well as other NBC News correspondents — will also be reporting from the town of Windsor and nearly London. Coverage of the wedding beginning at 4:30 a.m. EST. On May 16, Guthrie and Kotb will also host an NBC prime time special, called Inside the Royal Wedding: Harry and Meghan, touted as "an unprecedented glimpse into the fairy-tale romance," with interviews of the couple's friends.
CBS This Morning's Gayle King and Entertainment Tonight's Kevin Frazier will anchor their network's coverage of the royal wedding, beginning at 4:00 AM, ET on May 19. It will be broadcast on both CBS and its cable news channel, CBSN. King will also anchor a prime time special on Friday, April 20 at 10:00 p.m. called Meghan Markle: American Princess. the special will cover the couple's relationship, as well as presenting a brief biography of the bride featuring interviews with friends and former colleagues. Entertainment Tonight will broadcast from London and Windsor during the week leading up to the wedding, with special coverage, and will also air a recap of the wedding on Monday, May 21. And if you can't drag yourself out of bed early enough for the big event, CBS News will also air a two-hour special rebroadcast at 8:00 p.m. on Saturday night.
Finally, PBS is airing its own weeklong series of specials entitled Royal Wedding Watch, hosted by Meredith Vieira and British television presenter Matt Baker. Each episode will take a different angle, exploring the life of Markle, the couple's back story, a tour of Kensington Palace (their future home), and the history, traditions, and royal protocol that dictates the celebration. It airs May 14-17 at 10:00 p.m. and May 18, 10:30, culminating in a live broadcast of the wedding from within St. George's Chapel on Saturday morning.